While back-to-school time may herald the end of the summer, it is the Labor Day weekend that drives the nail into the coffin. No more white shoes, no more living in bathing suits and flip flops, no more waking up without an alarm clock.
Instead, soccer season is in full swing, homework complaints have begun, and our kids start musing about what they could be for Halloween.
Summer brings us wonderful memories – many of which are connected to food.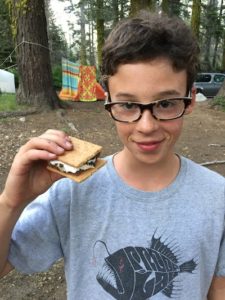 Our early July family camping trip near Lake Tahoe was filled with our usual camping favorites from burgers to S'mores. We then headed off on our annual trip back to Cleveland to visit family — a trip that is always filled with food adventures. The kids get used to Grandma's homemade desserts for dinner every evening.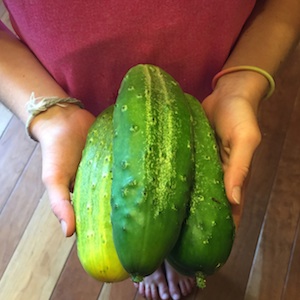 Pa and his friends bring breakfast treats from the local bakery. We enjoy the picking tomatoes, peppers and cucumbers from the garden and transforming them into something delicious. And there is time in the kitchen with Mom – not only for me, but for the kids. This summer Grayson jumped in the kitchen, with the help of both Grandma and Grandpa, to make some headway on his Boy Scout cooking badge.
Cuban Adventures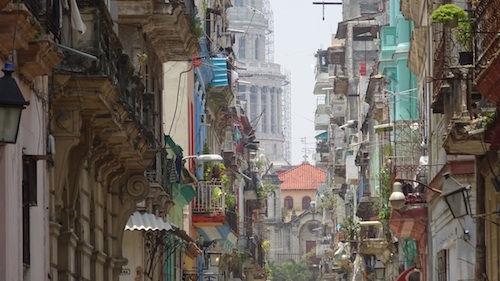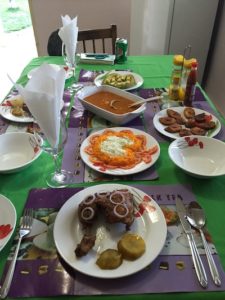 Then there is Cuba, a long-time-in-the-making trip that Greg and I finally made happen. Our efforts to eat the way the locals do paid off as we indulged in the meals prepared for us at our homestays, and sought out restaurants that the locals frequented. In the end, the food and drink we experienced, has left an impression on us – and inspired us to incorporated the dishes into our weekly menu here at home.
But even with those summer memories, I find myself in my own kitchen, trying to get out of the what-to-cook rut. Long gone are the summer days when we worried less about the time we ate, and focused more on the joy of planning, preparing, and partaking in our meal time.
With the kids back at school, the timetable is much more rigid. I've lunches to make, and after-school snacks to have on hand. I feel as if I'm running two-steps behind when it comes to offering them something healthy and filling to eat. (I just can't stand when all they want to eat are crackers!)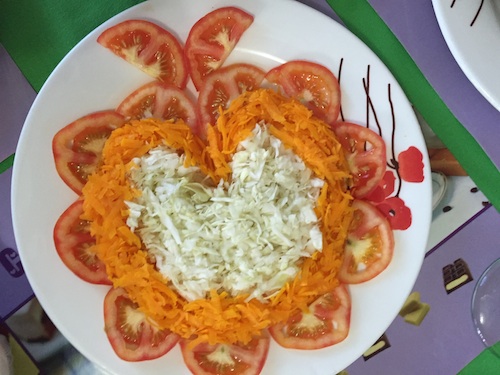 I've made an effort to rejuvenate my love for making meals during the transition from late summer to early fall. The offerings in our CSA box are slowly transitioning to a new array of fruits and veggies, making me dig out recipes to use the fruits and veggies that are delivered. Adding to all this, we changed our CSA delivery from once every two weeks, to weekly — a move that is also destined to make a change in the way we eat.
It's evident that with the official end of summer bearing down on us, there are lots of changes going on. Sometimes we love change, other times we fight it.
With the Labor Day weekend, we will say goodbye to all our summer fun, but I welcome all the change that the new season offers.
But, in an effort to savor the last of summer, here is one of our favorite picnic take-alongs – perfect for Labor Day weekend.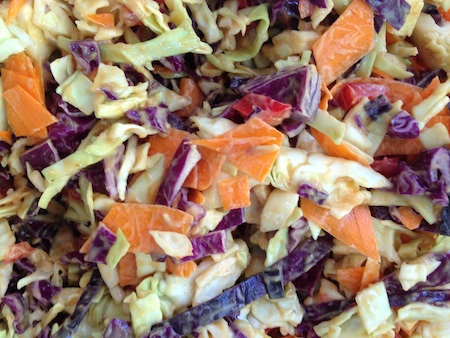 Quick to make, this Asian-Style Spicy Coleslaw puts a new twist on coleslaw with its slightly spicy peanut sauce dressing. We love making the recipe as is, but are also fans of improvising by substituting the Napa cabbage with green cabbage for added crunch, and switching the Sriracha sauce with chili garlic sauce.
¼ cup plus 2 tbsp smooth peanut butter
3 tbsp fresh lime juice
3 tbsp water
3 tbsp sugar
3 medium garlic cloves, very finely chopped
1 tbsp Sriracha chile sauce
2 lbs Napa cabbage thinly sliced (12 cups)
¾ lbs red cabbage, thinly sliced (3 cups)
3 medium carrots, julienne
2 red bell peppers, very thinly sliced
3 tbsp chopped cilantro
15 mint leaves
salt and freshly ground pepper
In a medium bowl, whisk the peanut butter with the lime juice, fish sauce, water, sugar, garlic, and Sriracha.
In a large bowl, toss the sliced napa and red cabbage with the carrots, peppers, cilantro and mint. Toss the coleslaw with the peanut dressing and season with salt and black pepper.
Source: Food & Wine Annual 2008

Print Friendly