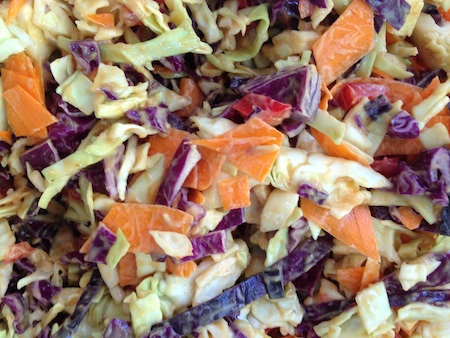 Quick to make, this Asian-Style Spicy Coleslaw puts a new twist on coleslaw with its slightly spicy peanut sauce dressing. We love making the recipe as is, but are also fans of improvising by substituting the napa cabbage with green cabbage for added crunch, and switching the Sriracha sauce with chili garlic sauce.
¼ cup plus 2 tbsp smooth peanut butter
3 tbsp fresh lime juice
3 tbsp water
3 tbsp sugar
3 medium garlic cloves, very finely chopped
1 tbsp Sriracha chile sauce
2 lbs napa cabbage thinly sliced (12 cups)
¾ lbs red cabbage, thinly sliced (3 cups)
3 medium carrots, julienned
2 red bell peppers, very thinly sliced
3 tbsp chopped cilantro
15 mint leaves
salt and freshly ground pepper
In a medium bowl, whisk the peanut butter with the lime juice, fish sauce, water, sugar, garlic, and Sriracha.
In a large bowl, toss the sliced napa and red cabbage with the carrots, peppers, cilantro and mint. Toss the coleslaw with the peanut dressing and season with salt and black pepper.
Source: Food & Wine Annual 2008

Print Friendly