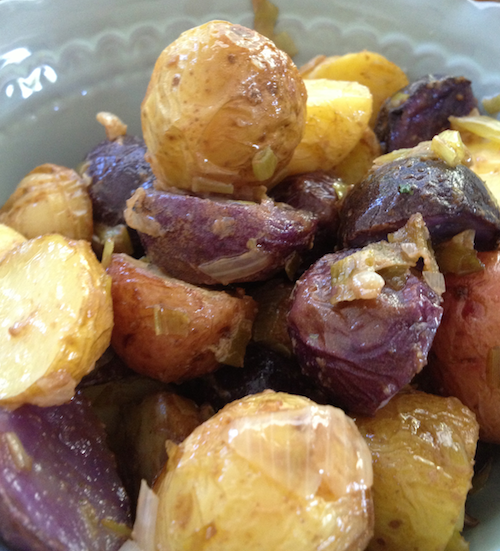 2 lbs. red white and blue potatoes (or fingerling potatoes)
½ lb green/spring garlic, chopped (using bulb and most of the green ends)
3 tbsp Dijon mustard
2 tbsp balsamic vinegar
scant ¼ cup olive oil
½ tsp salt
Grated Parmigianno Reggiano to taste (optional)
Cut potatoes in half then boil potatoes in lightly salted water until they loose their firmness. (Don't boil until super-soft). Drain and place in roasting pan. Coat with olive oil and roast in 450 degree F oven until crisp.
Meanwhile, sauté green garlic in butter and olive oil until tender, (5-8 minutes).
Mix mustard, balsamic vinegar and olive oil in small bowl, then add salt. Add spring garlic and mix to combine.
Once potatoes are crisp, transfer to serving bowl and coat with spring garlic mixture. Once combined, add more salt to taste, then sprinkle with cheese if desired.
Serve warm or cold.

Print Friendly