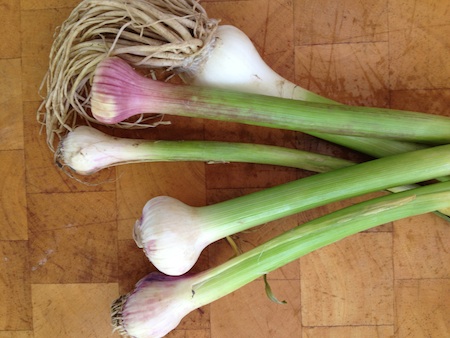 A hallmark of spring is the immature garlic that is very versatile, and adds a soft garlicky taste to many dishes. With their long green stocks and small pink tinged bulbs, the green or spring garlic looks like baby leeks. In season from February to June – and maybe July in colder climates, the spring garlic is easy to use and incorporate into many dishes.
To Keep: Store in the refrigerator in an open container for a few days (but away from other foods).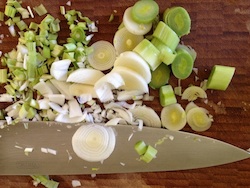 To Prep:  Rinse well in cold water. Trim cutting off root end.
To Use: Delicious when lightly brushed with olive oil then grilled. It can also be chopped and sautéed, used in omelets, spinach dishes and potato salads. Even try this delicious Green Garlic Pesto from Agricultural Institute of Marin.
This pesto is delicious on pasta, in soup, or as a spread on sandwiches.
 1/2 pound green garlic
1/2 tsp. salt, plus more to taste
1 bunch Italian flat-leaf parsley
1/4 cup pistachios
1/4 cup plus 1 Tbsp. extra-virgin olive oil
1/4 cup freshly shredded Pecorino cheese or other hard, flavorful grating cheese
Preparation:
Trim and discard root ends of green garlic. Finely chop green garlic, rinse thoroughly and pat or spin dry.
In a large frying pan over medium-high heat, heat 1 Tbsp. olive oil, green garlic, and 1/2 tsp. salt until soft, about 3 minutes. Let cool to warm room temperature.
In a blender or food processor, pulse pistachios to chop. Set aside. Add green garlic and parsley and process, scraping down sides as necessary, until bright green and smooth. With motor running, drizzle in olive oil. Pulse in reserved nuts and cheese. Taste and add more salt if you like.
Makes enough Green Garlic Pesto to coat 1 pound linguine.

Print Friendly