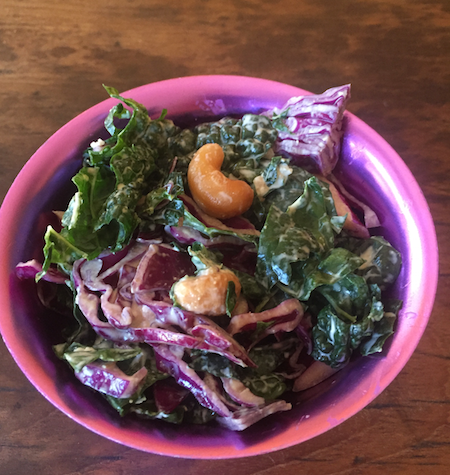 There are so many ways to enjoy this super food that we enjoy it all year round. This recipe pairs kale with delicious mix of crunchy red cabbage, a bit of spice and a hint of ginger.
1 head green kale, torn from stems and chopped
2-3 carrots, grated
1/4 red cabbage, cut in thin strips
1/3 cup cashes, finely chopped
1 garlic clove, minced
1 tsp ginger, minced
1 jalapeno, minced (seeds removed), or 1/4 a 4-ounce can Hatch chiles
2 tsp soy sauce
1/3 cup mayonnaise
Place the kale, carrots and cabbage in a large bowl and toss to combine
In a small bowl, mix the cashews, garlic, ginger, jalapeno or chiles, soy sauce and mayonnaise until combined. Pour over the kale ingredients and toss well until incorporated.
Though we like to let the flavors sit and meld for a few hours, you can also serve this immediately.
Serves 2
Source: Farm Fresh to You

Print Friendly