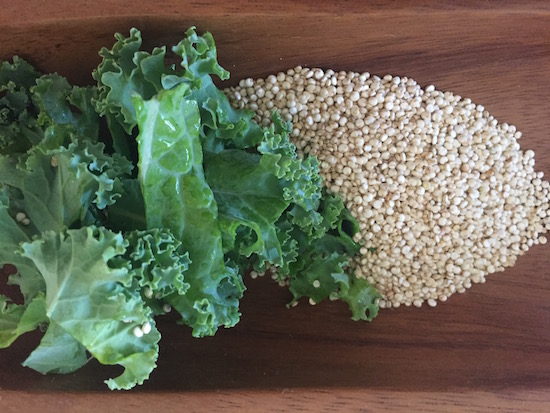 This healthy salad recipe has a lot going for it. Starting with nutrient-packed kale, then mixing with grapes, honey, and quinoa, this salad will fill your belly and satisfy your taste buds.
4 cups curly kale, hard stems removed, chopped small
2 cups cooked quinoa
1/2 cups red grape halves
1/2 a red bell pepper, finely chopped
For Vinaigrette
1/4 cup organic grapeseed oil
juice of 1 medium-sized lemon
1 tbsp raw honey; melted to soften
2 tbsp Dijon mustard
salt to taste
1/4 cup raw sunflower seeds
Cook quinoa according to package directions to yield 2 cups of cooked quinoa.
In a large mixing bowl, combine prepared kale, 2 cups cooked quinoa, red grape halves, red pepper and raw sunflower seeds/ Stir to thoroughly mix.
In a small dish, whisk together ingredients for vinaigrette, adding salt to taste
Pour vinaigrette over salad and stir to evenly coat. Serve and enjoy.
Serves: 4-6
Source: www.veryculinary.com

Print Friendly