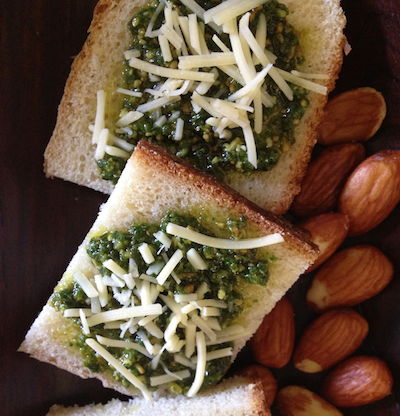 Our kids love traditional basil pesto, but this recipe got me thinking about using different herbs – and nuts. By experimenting with the fresh herbs you have on hand, and choosing different nuts to complement the taste, you'll quickly create delicious sauces to be used for appetizers, on pasta, and to slather over meats.
2 cups fresh herb leaves, coarsely chopped
6 cloves garlic, chopped
1 cup nuts, chopped
½ cup olive oil
½ tsp salt
¾ cups grated Parmesan or Romano cheese
Mix herbs, garlic, nuts, ½ cup olive oil and salt in a blender. Process until smooth, adding a little more oil if needed to make blending easier.
Transfer to a bowl and stir in grated cheese. Refrigerate in an airtight container, or spoon into ice cube trays and freeze for later use. Makes about 1 ½ cups.
Source: 101 Farmhouse Favorites from Gooseberry Patch

Print Friendly