It was in Grandma's farmhouse that meals were made with love, and those delicious meals and memories were passed down through generations. It is those recipes from Grandma's kitchen that inspired the newest cookbook available from Gooseberry Patch, 101 Farmhouse Favorites.
The cookbook  includes recipes in several categories: Break of Day Breakfasts, Garden-Fresh Soups & Salads, Family Dinner Favorites, Blue-Ribbon Desserts, and Classic Country Canning.
The farmhouse collection of recipes are provided by cooks around the country, who have shared their favorites from breakfast to dessert, including everything from Easy Bacon Fritatta, Swirled Coffee Cake,  and Strawberry-Thyme Jam, to Root Beer Cake, and Vermont Maple Chicken, a delicious old New England farmohouse recipe that has been modernized. In addition to recipes, you'll find helpful tips and ideas on every page.
We've been cooking our way through the book, but our first two choices to create were the fresh Herb Pesto Sauce and the Roasted Tomato-Feta Broccoli.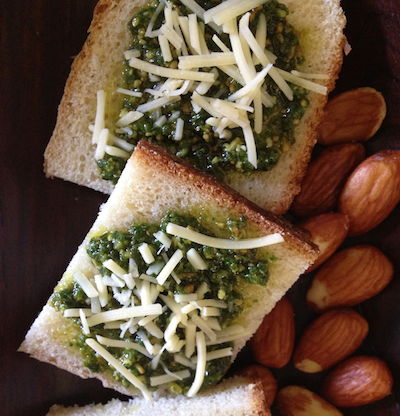 As for the Herb Pesto Sauce, our kids love traditional basil pesto, but this recipe got me thinking about using different herbs – and nuts. By experimenting with the fresh herbs you have on hand, and choosing different nuts to complement the taste, you'll quickly create delicious sauces to be used for appetizers, on pasta, and to slather over meats.
Fresh Herb Pesto Sauce
2 cups fresh her leaves, coarsely chopped
6 cloves garlic, chopped
1 cup nuts, chipped
½ cup olive oil
½ tsp salt
¾ cups grated Parmesan or Romano cheese
Mix herbs, garlic, nuts, ½ cup olive oil and salt in a blender. Process until smooth, adding a little more oil if needed to make blending easier
Transfer to a bowl and stir in grated cheese. Refrigerate in an airtight container, or spoon into ice cube trays and freeze for later use. Makes about 1 ½ cups.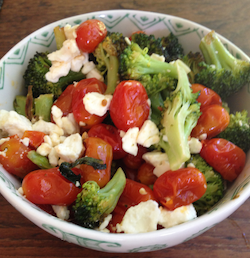 For our next recipe, I was drawn in by the simplicity of the Roasted Tomato-Feta Broccoli recipe, along with its simple addition of a few ingredients – the lemon and feta, which brings a whole new flavor to the vegetables. The recipe doesn't mention it, but I find that if you place a cover on the pan while the vegetables are cooking, you can reach the proper crispness of broccoli much quick, and without browning the broccoli.
Roasted Tomato-Feta Broccoli
2 Tbsp olive oil
2 cups broccoli flowerets
1 cup cherry tomatoes
1 tsp lemon juice
dried parsley, salt and pepper to taste
½ cup crumbled feta cheese
Optional: additional olive oil
Heat oil in a skillet over medium heat. Add broccoli, tomatoes, lemon juice and seasonings: cook until vegetables are crisp-tender. Transfer warm vegetable mixture to a large boil and mix in cheese. Drizzle with additional olive oil, if desired.
Serves 2-4
Known for homestyle, family-friendly cookbooks, JoAnn and Vickie's Gooseberry Patch cookbooks are recognized as national bestsellers. Visit them online at www.gooseberrypatch.com to view the entire collection of cookbo0ks, which includes 101 Cozy Casseroles and Homestyle in a Hurry.
For great recipes and tips, read the Gooseberry Patch Blog, and "Like" Gooseberry Patch on Facebook.
What is your favorite farmhouse recipe? Add yours to the comments below, and you'll be entered to win the 101 Farmhouse Favorites cookbook from Gooseberry Patch. If you don't win, you can order your copy here.

Print Friendly