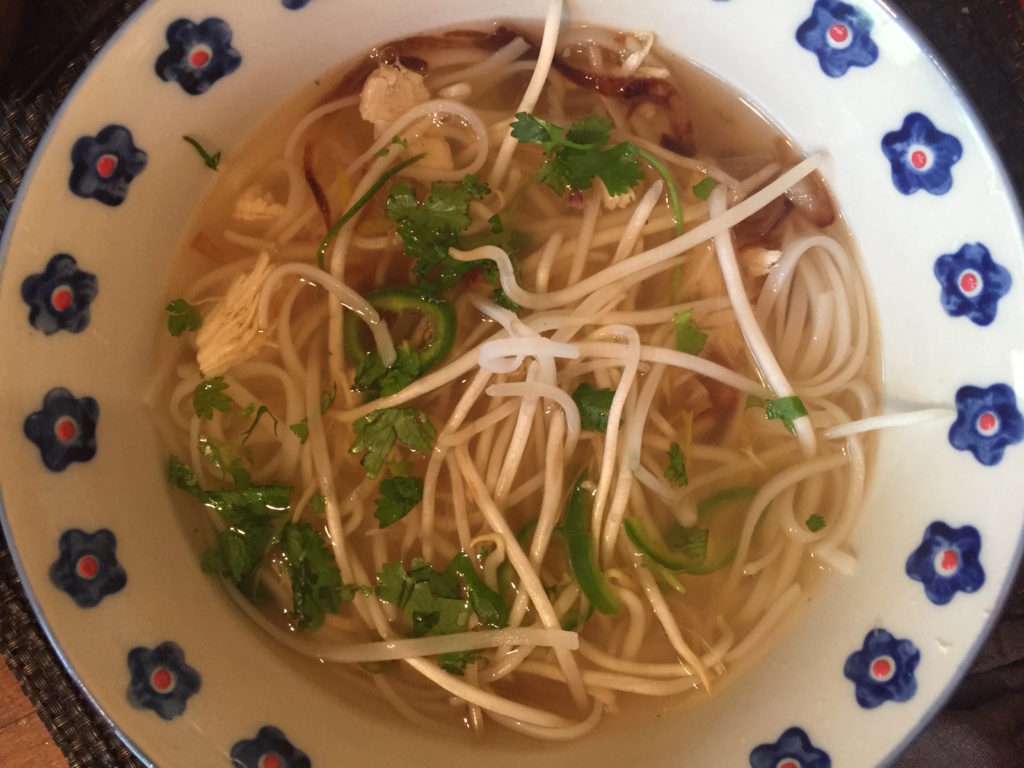 Rice noodles and shredded chicken, served in a comforting hot broth, then topped with delicious garnishes, ensures this easy-to-make Vietnamese style phò is a family favorite.
12 ounces wide, flat noodles, medium width, or rice vermicelli
4 cups canned chicken broth, plus 4 cups water
2 Tbsp fish sauce
3 slices unpeeled fresh ginger
1 cinnamon stick, about 4 inches long
4 whole star anise
12 ounces skinless, boneless chicken breast
4 Tbsp fried shallots
2 cups fresh bean sprouts
2 fresh Thai or serrano chile peppers, seeded and thinly sliced
4 ounces fresh cilantro sprigs
4 sprigs fresh mint
4 sprigs Thai basil or regular sweet basil
1 lime, cut into wedges
Chili-garlic sauce, for serving
Hoisin sauce, for serving
Soak the rice noodles in hot tap water for 20 minutes. Drain and set aside.
In a 2-quart saucepan, combine the chicken broth mixture with the fish sauce, ginger, cinnamon, and star anise. Bring to a boil over medium-high heat. Add the chicken breast and when the broth returns to a boil, reduce heat to maintain a low simmer. Cover and cook 15 minutes, or until the chicken is cooked through. Skim the broth occasionally to remove any foam and fat.
When the chicken is done, remove it from the broth. When it is cool enough to handle, tear the meat with your hands into small shreds. Leave the hot broth and spices in the saucepan to develop the flavor fully while shredding the chicken. When ready to serve, drain the broth through a sieve or colander discarding the solids and impurities. Return the broth to the saucepan and bring to a boil.
To serve, reheat the noddles by plunging them into a pot of boiling water for about 1 minute, or until tender. Stir with chopsticks to cook evenly. Drain and immediately portion the noodles into individual bowls. Divide the shredded chicken among the bowls and sprinkle 1 Tbsp fried shallots over each, then ladle the hot broth over the noodles. Arrange the fresh garnishes — bean sprouts, chile peppers, cilantro, mint, basil, and lime on a platter and set out on the table. Put chili-garlic sauce and hoisin sauce in small dishes. Allow each diner to garnish his or her own noodles with the herbs and sauces as desired.
Serves 4
Source: Easy Asian Noodles, but Helen Chen. John Wiley & Sons, Inc. Copyright 2010 by Helen Chen.
Save

Print Friendly