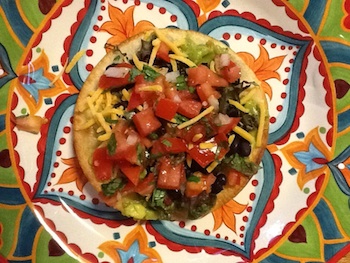 A tostada is a kind of open-faced Mexican sandwich, with many contrasting layers of food piled onto a crispy corn tortilla. Everyone can create a delicious tostada topped with their favorite ingredients. This delicious recipe provides inspiration for a great family meal, or as part of a buffet at a party.
Tostada Components:
* Deep-fried tortillas; Fry tortillas in hot oil until crisp. Drain well on paper towels, and serve in a basket.
* Refritos (recipe below)
* Accessories – use all or some
Shredded lettuce
Finely shredded cabbage
Guacamole
Minced olives
Grated cheese
Chopped tomatoes
Chopped hardboiled egg
Minced mild chiles
* Hot sauce, nacho sauce or salsa fresca
Take a crisp tortilla and place on your plate. Add a spoonful of refritos, and spread them imaginatively in place. Sprinkle on some grated cheese, followed by an elaborate mound of assorted accessories, the height of which considers the dimensions of your mouth. Ladle on a little sauce, or spoon on some salsa. Now you are ready to make a noble attempt to eat it daintily. Keep you plate under your chin to catch what falls or drips.
Refritos
Serve in tostadas, or stuff into bell peppers and baked, then serve over rice with Nachos sauce, or, for a plain and inexpensive dinner, serve with rice, green salad, and warm tortillas
2 cups dry pinto beans, soaked
2 to 3 tbsp olive oil
2 cups minced onion
5 to 6 (or even more) medium cloves garlic, minced
2 tsp cumin
1 ½ tsp salt
black pepper
optional: 1 small bell pepper, minced
Cook the presoaked beans in plenty of boiling water until very soft
Heat the olive oil in a large skillet. Add onion, half the garlic, cumin, and salt. Saute over medium heat about 10 minutes, or until the onions are soft. Add (or don't add) the optional bell pepper, and sauté another 5 minutes. Add remaining garlic; season with black pepper.
Turn heat to low, add beans, and mix well. Mash with a fork or a potato masher, and cook for just a few minutes more. Serve right away, or store in refrigerator or freezer until time to reheat. (Refritos reheat beautifully).
Source: The New Moosewood Cookbook, by Mollie Katzen, Ten Speed Press
Save

Print Friendly