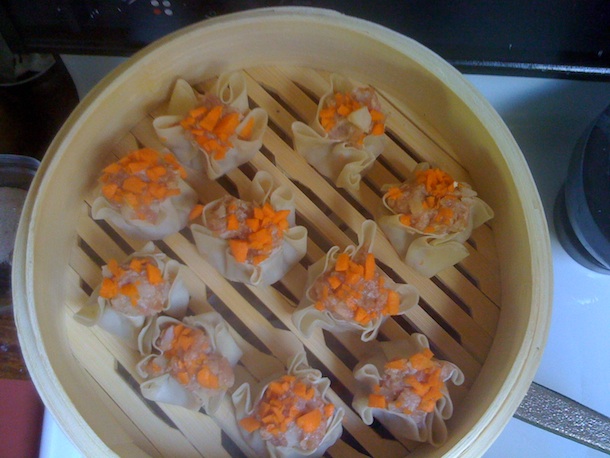 A recent Edible Tidbits blog post for the Project Food Blog Contest, I was challenged to prepare a cuisine that I hadn't previously attempted. I opted for authentic Asian, and in order to do that, I needed the proper tools. To that end, I bought a bamboo steamer so I could make Shao-Mai dumpling, and I am wondering what why I never thought of doing this before!
Asian food was introduced to the United States in the mid-1800's when Chinese immigrants began to settle in California. Slowly, Asian communities spread throughout the U.S., including Vietnamese, Japanese and Thai (among others) bringing with them the culinary delights we are all now accustomed to enjoying today.
But it wasn't always that way. It took until the 1970s before Asian cuisines hit mainstream American diners, when chop suey and fortune cookies were all the rage.
Lately, Asian cuisine – real Asian cuisine – has gone mainstream. Due to increased travel to Asian countries, the overall healthfulness of the cuisines, and a desire to try new flavors and textures, Americans have welcomed a growing array of Asian inspired meals – from dim sum to sweet and sour fish kebabs to stir-fried mushrooms and bamboo shoots – into their weekly meal planning.
Not only enjoyed in restaurants, Americans are attempting to recreate their Asian culinary experiences at home. But to do that, the proper tools are needed.One of the most important Asian kitchen tool is the wok, but another important tool is the bamboo steamer.
The Bamboo steamer is a useful piece of cookware that has been used for many centuries in Asian Cooking. This multi-layered container lets you cook different foods at the same time. Now you can't beat the convenience of that!
When placed over a pot of boiling water, the traditional bamboo steamer gives a bit of authenticity to the cooking, not only in style, but in its function. The bamboo steamer is designed with a slated bottom to allow the steam to circulate around the food, and a woven lid to allow it to escape – keeping condensation from dripping on the food. When used in conjunction with a wok, the bamboo steamer can steam an entire meal at one time.
And, steaming is a healthful way to cook since it requires no additional fats, oil or butter. The bamboo steamer is designed to produce a more flavorful and evenly cooking meal, all the while helping to retain the natural characteristics of the food. As well, it preserves essential vitamins and minerals that can be lost when boiling, frying or sautéing.
Food can be directly upon the slots, or over lettuce, corn husks or banana leaves; or parchment paper to avoid sticking.
The latter method is often preferred as it not only prevents sticking, but helps prevent the bamboo from absorbing the flavors of the food being steamed. To create an extra flavorful dish, you can add herbs to the water, and wait for the food to soak up the aromas of the herbs.
Bamboo steamers are available in several diameters, from 4 to 11 inches. Choose a steamer that has a diameter measuring 3 inches less than that of your wok – or one that is sized to properly sit over a pan.
Sure, you can buy traditional stove-top or electric steamers, but if you want an authentic flair, the bamboo steamer is the way to go!

Print Friendly