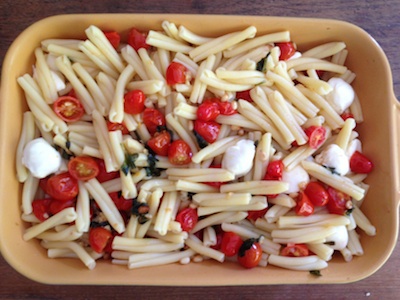 Easy to create in not time at all, the tangy tomatoes, with the pine nuts and slightly melted mozzarella make this a perfect side dish, or lunchtime meal.
1/4 cups extra-virgin olive oil
1 lb cherry tomatoes, halved
10 freshes basil leaves, roughly chopped, plus more whole leaves
1 clove garlic, minced
1 lb dried short pasta (penne or campanelle)
15 small balls fresh mozzarella, halved
1/4 cups pine nuts, toasted
1/2 tsps seal salt
In a large sauté pan, heat the oil over medium heat. Add the tomatoes, basil, and garlic
Cook until the tomatoes are soft, 15 to 20 minutes. Remove from heat.
Cook the pasta in a large pot of boiling salted water until al dente; drain well, then transfer the past a to the sauté pan with the sauce. Add the mozzarella balls and toss to combine them with the tomato sauce and pasta. Add the pine nuts and toss. Add the salt and mix again. Serve immediately on a large oval platter, garnished with large basil leaves.
Serves: 4 to 6
Source: Coming Home: A Seasonal Guide to Creating Family Traditions by Rosanna Bowles

Print Friendly