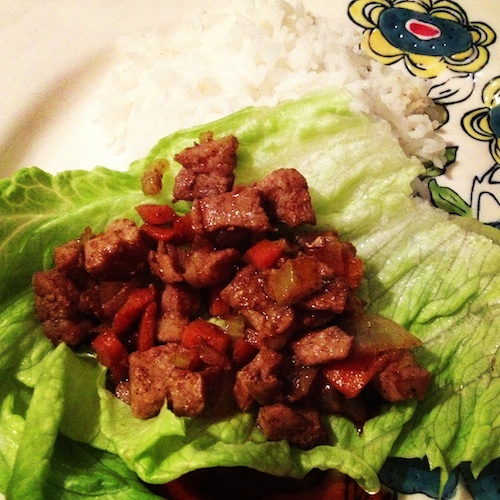 Delicious, flavorful and fun to eat, this recipe makes everyone think you spent hours in the kitchen. Only you'll know that it takes only about 30 minutes from start to finish. Use this recipe as a base for creating your own delicious meal – we omit the water chestnuts and don't always have fresh basil on hand.
1 tbsp peanut oil
1 ½ lbs boneless pork shoulder, outer fat trimmed and cut into ½-inch dice
1 small onion, cut into 1/3-inch dice
1 carrot, halved lengthwise and thinly sliced crosswise
1 celery rib, thinly sliced on the bias
¾ tsp Chinese five-spice powder
1/3 cup canned whole water chestnuts, drained and coarsely chopped
3 tbsp chicken stock or low-sodium broth
2 ½ tbsp hoisin sauce
8 basil leaves, torn into pieces
2 scallions, thinly sliced
½ tsp Asian sesame oil
Kosher salt and freshly ground pepper
Iceberg lettuce leaves, for serving
In a skillet, heat the oil until shimmering. Add the pork and stir-fry over high heat until browned and just cooked through, 5 minutes. Transfer the pork to a plate.
Add the onion, carrot and celery to the skillet and cook over moderate heat until tender, 4 minutes. Add the five-spice powder and cook until fragrant, 30 seconds. Stir in the water chestnuts, stock and hoisin, scraping up the brown bits from the bottom of the pan. Return the pork to the skillet and stir-fry until heated through and coated with sauce, 1 minute. Remove from the heat and stir in the basil, scallions and sesame oil; season with salt and pepper. Spoon into bowls and serve with lettuce leaves for wrapping.
Source: Food & Wine, annual cookbook, 2009

Print Friendly