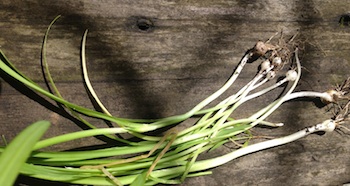 One of the first vegetables to pop up in the garden – or growing wild in local fields – the spring onion has a distinctive sweet flavor that is a result of them being picked before the bulb fully develops. These very young onions are ideal when used in salad, steamed with fish, sprinkled over Chinese dishes, and whipped into mashed potatoes. Versatile and easy to use – go ahead, pick some and try.
Spring Onions Amandine
1 cup chicken or vegetable broth
1 lb spring onions with small bulbs, or pearl onions
¼ tsp saffron threads (optional)
1 ½ tbsp. unsalted butter
½ cup whole almonds, coarsely chopped
1 tbsp chopped fresh dill
1/4 tsp salt
1/8 tsp freshly ground black pepper
In a medium saucepan over high heat, bring the broth, onions and saffron (if using) to a boil. Reduce the heat to medium-low, cover, and simmer for 20 minutes, or until the onions are tender. Remove from the heat. Using a slotted spoon, remove the onions to a bowl and keep warm.
Return the pan to the heat and cook the liquid over high heat for 4 minutes, or until reduced to 1/4 cup. Add the butter, almonds, dill, salt, and pepper and cook for 1 minute. Return the onions to the mixture and cook for 2 minutes longer, or until heated through.
Kitchen Tip: For a richer version of the dish, after reducing the cooking liquid, add ¼ cup heavy cream.
Source: Simply Organic, by Jesse Ziff Cool, Chronicle Books

Print Friendly