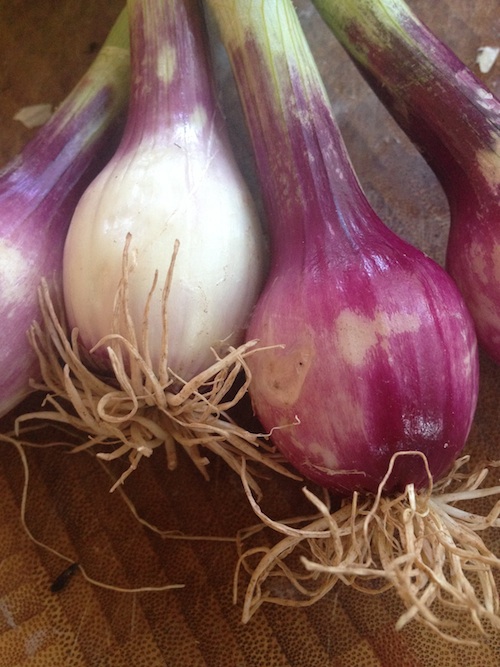 Celebrate spring with these beautiful alliums. Spring onions offer fresh onion flavor, without the pungency (which makes them very popular with my kids).
They are mild, crisp and offer a hint of sweetness — perfect for those who don't always like the kick of raw onions.
A simple way to enjoy spring onions is to grill them. Trim the roots, lightly oil and salt and pepper them, then grill over medium heat. Turn then occasionally until they soften a bit.
Thinly sliced raw spring onions make a wonderful addition to salads, baked potatoes, or sprinkled on your favorite soup or veggie dish.
If you are cooking with the entire onion, and it is a little on the thicker side, cut it in half or quarters lengthwise first.
Store spring onions in the refrigerator, loosely covered since they have a high moisture content.
Butter-Braised Spring Onions with Chives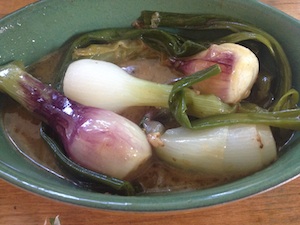 8 spring onions, root ends trimmed
4 tbsp unsalted butter
kosher salt
1/4 tsp chopped fresh chives
Lay onions in a large skillet, trimming top of dark greens to fit. Add 2 tbsp butter and 1/2 cup of water to skillet; season with salt. Bring to a boil, then cover. Reduce heat and simmer onions until greens are soft and bulbs are almost tender, 15-20 minutes. Uncover and cook, turning onions occasionally, until bulbs are completely tender, 5-8 minutes longer.
Transfer onions to a plate. Simmer cooking liquid in skillet until reduced to 2 tablespoons, aout 1 minutes. Remove from heat and whisk in remaining 2 tablespoons butter. Return onions to skillet and turn to coat with sauce. Top with chives.
Source: Bon Appetit

Print Friendly