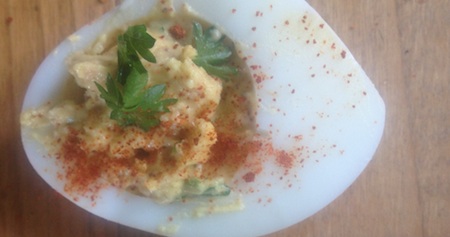 This delicious deviled egg recipe is suited for using all those leftover Easter Eggs. But, don't put the recipe away after the holiday, deviled eggs are tasty afternoon treat or picnic and party fare for all year round.
If you're bringing these to an event, it's best to prepare the components ahead of time and assemble the eggs on site. It's much easier to transport that way.
6 large eggs
1/2 small clove garlic
kosher salt
2 tbsp extra-virgin olive oil
2 tbsp mayonnaise
1 tbsp finely chopped almonds, preferably Marconas
1 tsp freshly squeezed lemon juice, more as needed
1 tsp finely chopped parsley,  more for sprinkling
1/4 tsp smoked Spanish paprika (or regular paprika), more for sprinkling
Begin with eggs at room temperature; otherwise they will need more cooking time. Put the eggs in a medium saucepan and add enough cold water to cover by 1 inch. Put the pan over high heat. As soon as the water boils, turn off the burner and let the eggs sit in the hot water for 10 miutes. Carefully remove from pan, transfer to a bowl of cold water, and let cool.
Peel the eggs, halve lengthwise, and easy out the yolk into a bowl. Arrange the whites on a serving platter.
Peel and coarsely chop the garlic, sprinkle with a pinch of salt, and use the side of a chef's knife to smash the garlic into a paste. (you should have about 1/4 teaspoon.) Add the garlic to the bowl with the yolks, along with the almonds, mayonnaise, almonds, lemon juice, parsley, paprika, and 1/4 teaspoon salt.
Use a fork to smak the yolks and blend the ingredeints. Taste and add more lemon juice or salt as needed, keeping in mind that you need a flavorful filling to counter the bland egg whites.
Using two teaspoons, dicide the yolk micture among the whites. For a more refined presentation you can also pipe the mixture in using a pastry bag.
Garnish the eggs with a pinch of parley and paprika. Refrigerate if making ahead, but let them come to room temperature before serving.
Source: Bi-Rite Market's Eat Good Food, by Sam Mogannam and Dabney Gough

Print Friendly