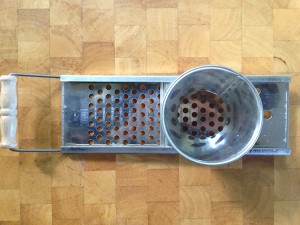 Spaetzle is often considered an old-word recipe, but it continues to be a family favorite in our household. We enjoy many 'dumpling' recipes – from heavy potato dumplings to these tiny light-as-air delights. Simple to make, this is Grandpa's recipe that has caused some tears in our household . . . only because Grandpa didn't make enough for seconds! Note: Grandpa adjusts the recipe, according to how it feels.
2 3/4 cups of flour
2 eggs (slightly beaten)
1 cup milk
about 1 tsp. salt
Mix eggs, flour and salt together with spoon.  Add milk a little at a time until dough is smooth, but not too stiff.  Beat with spoon until dough is smooth.
Heat a large pot of water–add salt.  Use spaetzle maker over top of pot to slide dough into boiling water.  If no spaetzle maker, scrape small pieces of dough into water.  Cook until tender, about 10-15 min.

Print Friendly