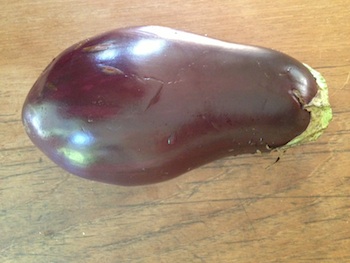 We love eggplant, we just don't serve it very often. Here's a great recipe that reminds us of how delicious eggplant really is.
1 medium to large eggplant (12 to 16 ounces)
2 tbsp olive oil
salt and freshly ground pepper
1 clove garlic, minced
1/3 cup pitted kalamata olives, drained and rinsed
½ tsp ground cumin
Preheat the oven to 425 degrees F. Trim the ends of the eggplant and cut it horizontally into 1-inch slices. Place the eggplant in a single layer on a baking sheet lined with aluminum foil and brush the slices with 1 tablespoon of the oil. Sprinkle with salt and pepper. Roast for 10 minutes, then flip the slices over and roast for 6 minutes more. Let cool slightly. Peel the slices, discard the peels, then place the eggplant flesh, garlic, olives, cumin, the remaining 1 tablespoon oil, and 1/8 teaspoon salt in the bowl of a food processor. Blend until almost smooth.
Serving suggestions:
Serve with pita crisps or put on a thick layer on crostini
Use on a grilled vegetable sandwich
For a baked pasta dish, toss cooked pasta with the eggplant tapenade and ricotta cheese. Put the mixture into a baking dish, add a layer of canned diced tomatoes, anf finish with slices of provolone or mozzarella cheese. Bake at 375 degrees F for 6 to 10 minutes.
Makes about 1 ½ cups
Source: pestos, tapenades & spreads ©2009 by Stacy Printz, Chronicle Books.

Print Friendly