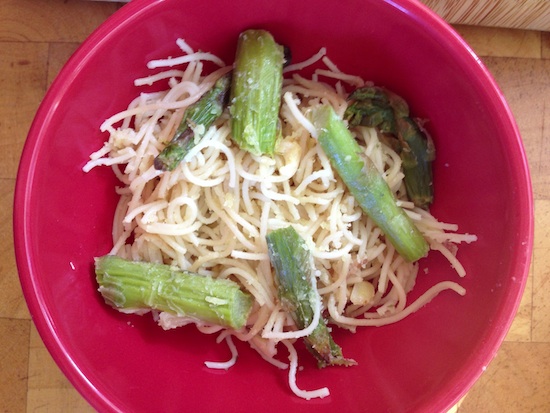 A delicious pasta dish that highlights the awesome taste of roasted asparagus. We also love to substitute roasted cauliflower, red peppers and even zucchini from season to season.
1 lb asparagus, trimmed
2 tbsp extra-virgin olive oil
½ tsp coarse salt, such as kosher
5 tbsp unsalted butter, divided
1 large yellow onion, coarsely chopped
5 medium cloves garlic, sliced
1 ½ cups chicken broth or vegetable broth
1 ½  tbsp chopped fresh rosemary leaves
1 lb spaghetti, thick spaghetti preferred
¼ cup freshly grated Parmesan cheese, plus cheese for optional topping
salt and freshly ground black pepper
garnish: 8 sprigs fresh rosemary
Adjust oven rack to upper third of oven. Preheat oven to 400 degrees F. Spread asparagus on rimmed baking sheet in a single layer; brush with oil and sprinkle with salt. Roast until tender, about 7 to 12 minutes, shaking pan halfway through cooing to redistribute stalks (roasting time varies depending on thickness of asparagus). Cut stalks into 1 ½-inchpieces. Set aside.
In large, deep skillet melt 4 tbsp butter on medium-low heat. Add onion and cook until nicely browned, about 15 minutes. Add garlic and cook 1 minute. Add chicken broth or vegetable broth and chopped rosemary; increase heat to high and reduce by half.
Meanwhile, bring large pot of salted water to boil on high heat. Add spaghetti and cook according to package directions until al dente (tender with a little bite); drain reserving 2 tbsp pasta water.
Add pasta and reserved cooking water to butter mixture. Add cheese, 1 tablespoon butter and asparagus. Gently toss. Season with salt and plenty of pepper. Garnish each serving with rosemary sprig.
Nutritional information:
Calories 330; fat calories 100; total fat 11 grams, sat fat 5 grams, cholesterol 15 milligrams; sodium 280 milligrams; total carbohydrates 47 grams, fiber 4 grams, sugars 3 grams; protein 11 grams; vitamins A IUs 15%; vitamin C 8%; calcium 6%; iron 20%
Serves: 8 appetizer portions, 4 meal portions
Source: Melissa's Everyday Cooking with Organic Produce, Cathy Thomas, John Wiley & Sons, Inc., 2010.

Print Friendly