Filled with a sweet and fruity flavor, this cream roll is easy to create, and even easier to eat. Serve it up for a picnic, birthday, or dessert any day.
1 cup sifted cake flour
1 tsp baking powder
1/4 tsps Salt
3 larges eggs
3/4 cups granulated sugar
1 tbsp orange juice concentrate, thawed
2 tbsps water
1 cup confectioner's sugar for topping
1 can (12 oz.) cherry pie filling
1 box of strawberries
1 box of blueberries
2 cups (1 pint) heavy cream
1/2 cups confectioner's sugar
1/2 tsps almond sugar
Grease a 1 X 10 X 1-inch jelly roll pan. Line bottom with waxed paper; grease paper. Preheat oven to 37 degrees
Sift flour, baking powder and salt onto a fresh piece of waxed paper.
Beat eggs in medium sized bowl with electric mixer at high speed until thick. Beat in sugar, 1 tbsp at a time and continue to beat at high speed until mixture is very thick and creamy.
Turn mixture to a very low speed. Beat in orange juice concentrate and water. Sift flour mixture over little by little, beat in until batter is smooth. Do not over beat. Pour batter into prepared pan, spreading gently into corners.
Bake in preheated oven for 12 minutes or until center springs back when lightly touched.
Loosen cake around edges with a paring knife; invert onto a clean towel that has been dusted with 10X sugar; peel off paper. Trim ¼ inch from all sides with a sharp knife for easier rolling. Roll up cake and towel together, starting with one of the long sides. Cool completely on wire rack.
(Put cherry pie filling in a sieve and let most of the liquid drain off; reserve cherries)
Beat cream in a medium-sized bowl until stiff. Beat in a 10X sugar and extract.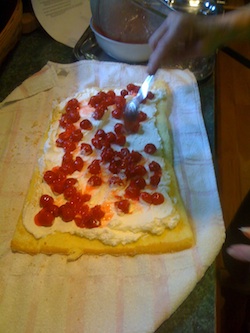 Unroll cake; spread with half the cream. Spoon ¾ of cherries over the cream. Roll up cake and filling, using towel to aid rolling. Place roll, seam side down, on serving plate. Spread with remaining cream; garnish with remaining cherries.
Source: Mom

Print Friendly