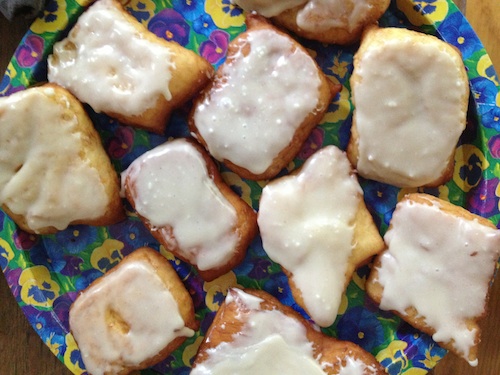 Mom used to make donuts on occasion when we were kids, and passed along this recipe to me when I was an adult. I've looked at it a million times, but never decided to make them, until this past weekend, when I was in need of something to bring to a Little League game to celebrate my son's birthday. Knowing we had cake for our family celebration, I wanted something a bit different, but just as satisfying. The donuts did the trick – I'll be making them more often now.
1 cup milk
1 pkg. dry yeast
¼ cup lukewarm water
1 tsp salt
3 ½ cups sifted flour
3 tbsp butter
2 tbsp shortening (not oil)
1 cup light brown sugar
2 eggs, well beaten
½ tsp nutmeg
Scald milk. Cool to lukewarm. In the meantime, soften the yeast in lukewarm water. Combine cooled milk and yeast mixture. Add salt and 2 cups of the flour. Let rise ½ hour in a warm, draft-free place.
Melt butter and other shortening. Add to dough with sugar, eggs, nutmeg and remaining 1 ½ cups flour.
Let rise again until light. Punch down. Add more flour if dough is too soft to handle.
Turn onto a floured board. Divide in 2 parts. Cover each bowl and let rest 10 minutes to make dough pliable enough to work with.
Roll about ½ inch thick. Cut into 3-inch circles with a doughnut cutter or into 2-inch squares with a very sharp knife. Arrange uncovered on board and let rise about 1 hour.
Heat deep fat to 365 degrees F. If fat is not hot enough, doughnuts will absorb fat and get soggy, or brown too quickly on outside and not cook through to the center and be gummy or doughy.
Lower doughnuts gently into fat. Fry 3 or 4 at a time, not more or they wll not brown evenly and stick together. Too many will also cool the fat and cause sogginess.
When brown on one side, turn and brown on the other side. Turn only once.
Lift from fat with fork. Be sure not to pierce them. Drain well on paper toweling. Dust with sifted powdered sugar when cool.

Print Friendly