Mom's aunt used to make this all the time, creating a light and airy puff paste from scratch to sandwich around the creamy custard filling. If you've the time, go ahead and make your puff paste from scratch, otherwise, you can use a store bought version.
Puff Paste
3 1/2 cups flour
1 cup ice water
1 lb chilled, but not hard, butter
Into a medium bowl, sift flour. Add ice water in small amounts mixing thoroughly with fork to form a stiff dough. On unfloured board, knead dough 5 minutes, then flour board and set dough on it under the bowl. Let stand 15 minutes.
Then, on floured board, roll dough into a rectangle 1.4-inch thick, turning it over frequently to help keep edges straight. Quickly spread two-thirds of dough with 1 stick of butter. Fold unbuttered third of dough over top of middle third, then fold remaining third over top to form 3 laters, with all edges meeting exactly This completes the first 'turn.' Repeat this step, keeping folded edge toward you while rolling.
Now, wrap folded pastry dough in 1 layer of waxed paper and place it directly on freezer shelf or bottom for 10 minutes, turning at end of 5 minutes.
Then, using last 2 sticks of butter, repeat steps 2 and 3 with pastry dough, for a total of 4 'turns.' Wrap this puff paste in foil and refrigerate overnight.
Remove one-fourth of puff paste from refrigerator. On floured board, roll it about 1.8 to 1/16th thick. Carefully lift off board to cookie sheet. Make a few pinches with the fork so that the dough doesn't curl up when baking. Refrigerate 15 minutes. Start heating oven to 450 degrees. Mix 1 egg white with 2 tbsp water. Brush tops of puff paste sheet after it has been in the refrigerator. Bake for 5 to 6 minutes, until puffed and light brown; then reduce heat to 350 degrees and bak another 5 minutes, or until golden brown. Remove from oven and carefully remove pastry to cooling rack. Repeat all with another 1/4 of dough.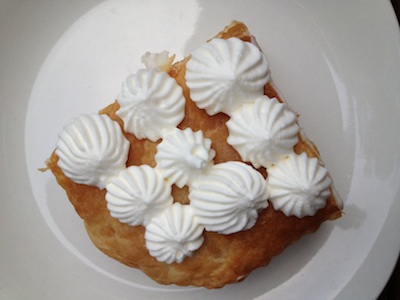 Custard Filling for Cream Squares
2 tbsp butter
1/4 cup corn starch
3/4 cup sugar
1/2 tsp salt
2 cups milk
2 egg yolks, slightly beaten
1 tsp vanilla
Melt butter. Blend in corn starch, sugar and salt. Gradually add milk. Heat to boiling over direct heat. Stir in slightly beaten egg yolks. Return to heat and cook two minutes, stirring constantly. Add vanilla. Cool thoroughly. Makes 2 cups. After filling is cold, fold in approximately 1 cup of heavy cream which has been whipped.
Assembling Cream Squares
When ready to prepare cream squares, place one sheet on serving plate. Spread cooled custard filling; then, top with second sheet of pastry. To serve, pipe some whipped cream on top – or simply sprinkle with powdered sugar. Carefully cut pieces with serrated knife.

Print Friendly