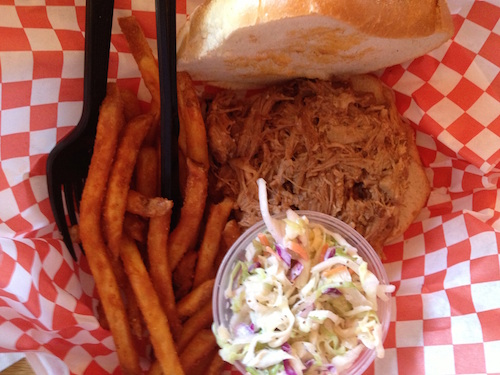 This delicious pork ragu recipe is easy to make and enjoy in so many ways. Use in sandwiches, top pappardelle pasta, spoon over polenta or risotto, or use as a filling for homemade ravioli, it is delicious any time of the year.
2-3 Tbsp olive oil
2-1/2 lb. boneless pork loin
2 tsp salt
1 tsp pepper
1 onion, chopped
2 tsp fresh rosemary, chopped
4 cloves garlic, chopped
2, 15-ounce cans crushed tomatoes, with juices
Heat the olive oil in a large Dutch oven.
Season the pork with the salt and pepper, then sear on all sides until golden brown (about 3 to 4 minutes per side). Remove the pork and set aside.
Add the onion, rosemary, and garlic to the pot and saute, stirring, for about 2 minutes. Add the tomatoes and their juices and stir with a wooden spoon. Scrape any bits of pork stuck to the bottom of the pot.
Return the pork to the pot. Bring the liquid to a boil, then reduce heat. Cover the pot tightly and simmer on the stovetop until the pork is tender enough to fall apart, 2 1/2 to 3 hours.
Remove the pork and, when it is cool enough to handle, shred it into bite-size pieces. Add the shredded pork back to the stockpot. Simmer until hot.

Print Friendly