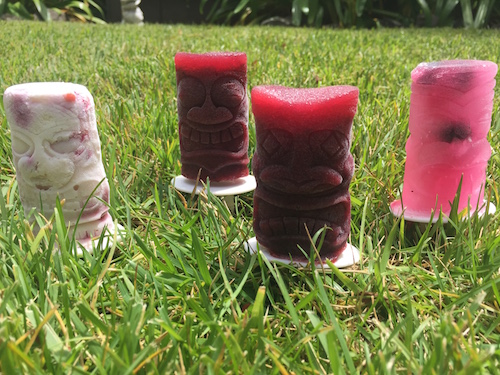 A little recent research revealed to me that the popsicle was 'invented' here in the Bay Area in 1905 by a young boy named Frank Epperson, who lived in San Francisco. He left his powdered soda mixed with water and a stirring stick out on the front stoop overnight. Anyone who knows San Francisco summers, knows that it can get cold enough overnight for the soda to freeze. The result was an instant hit, and our obsession with popsicles began.
I have memories of Mom's summertime homemade popsicles, made simply from Kool-Aid packets. My brother and I couldn't wait until they were frozen so we could sit on the front porch in the heat enjoying a bit of flavorful refreshment.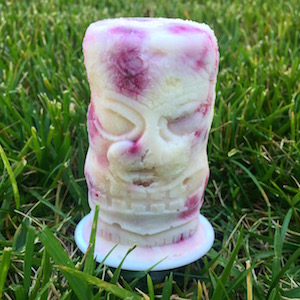 Homemade popsicles have come a long way since then, and I find myself creating ours using whichever ingredients we have on hand – juice, fresh fruit, cream, yogurt, tea, and more!
Summer may be winding down, but it is still warm outside (and as Northern California weather goes, we still have until well into Fall to enjoy warm weather). So, with this in mind, we continue to do what we do every summer — experiment with new combinations of flavors to enjoy frozen and on a stick.
Flavors and Fun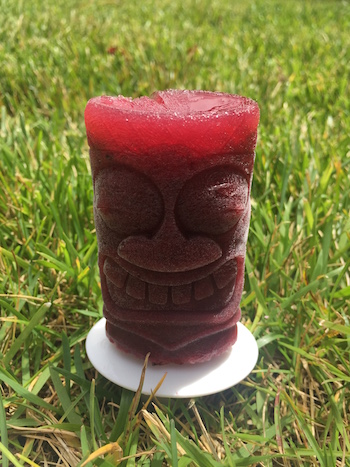 Aside from our various recipes, what makes popsicle even more fun for both kids and adults alike, are the molds. Lately we've been using the Tovolo Tiki Molds, which easily serve up silly-looking tiki faces, adding a bit more fun to our frozen treat adventures. The silicone molds make removing the tiki faces once frozen. Available in a variety of designs and styles, Tovolo's Pop Molds are fun for the whole family! Simply fill the silicone molds with your favorite ingredients, stick the handle in the tray, and in no time, you have ice pops. In addition to the Tiki Pops, Tovolo offers shapes of Monsters, Penguins, and more.
Here are some of our favorite recipes for creating refreshing popsicles.
Virgin Pina Colada
1/2 pineapple (4 cups)
15 oz can cream of coconut
3 Tbsp lime juice
pinch of salt
Watermelon Ginger Pops
5 cups watermelon
1/3 cup sugar
1/3 cup lime juice
2 tsp freshly grated ginger
Orange Strawberry Refresher
2 cups no pulp orange juice
1 cup strawberries
3/4 cups water
2 tbsp maple syrup or agave
A cousin of popsicles, paletas are Mexican-style frozen treats that usually rely on fresh fruit juice as their base and often have chunks of fresh fruit stirred in
Makes 6 paletas
This recipe was developed using 3-ounce popsicle molds. We prefer the flavor of fresh strawberries in this recipe; however, you can substitute 1 pound frozen strawberries, thawed and drained on paper towels to dry.
1 pound strawberries, hulled (3 cups)
½ cup heavy cream
¼ cup honey
1 teaspoon lemon juice
⅛ teaspoon salt
Process 1½ cups strawberries, cream, honey, lemon juice, and salt in food processor until smooth, about 30 seconds, scraping down sides of bowl as needed. Add remaining 1½ cups strawberries and pulse until coarsely chopped, about 5 pulses. Transfer mixture to large liquid measuring cup.
Divide strawberry mixture evenly among six 3-ounce molds. Insert popsicle stick in center of each mold, cover, and freeze until firm, at least 6 hours or up to 5 days. To serve, hold mold under warm running water for 30 seconds to thaw.

Print Friendly