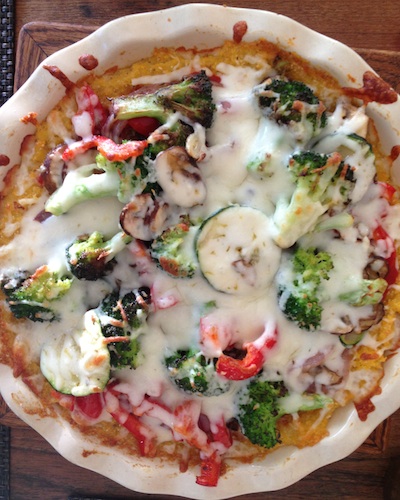 An easy deep-dish pizza with a thick and crunchy cornmeal crust. It takes a total of 1 ¼ hours to prepare, most of which is the crust-baking time. The recipe yields 1, 10-inch pie, which serves four. We like to substitute our favorite vegetables, or those we have currently available. Also, at times we skip the tomato slices and add a bit of tomato sauce instead.
Crust:
1 ½ cups coarse cornmeal
1 tsp salt
1 ½ cups cold water
2 cups boiling water
a little olive oil
Filling:
1 tbsp olive oil
1 small onion, thinly sliced
½ cup thinly sliced bell pepper
about 10 mushrooms, sliced
1 small zucchini, thinly sliced
5-6 medium cloves garlic, sliced
2 tsp dried basil (or 2Tbsp minced fresh basil)
½ tsp oregano
fresh black pepper
¼ lb. mozzarella cheese, grated
2 small – or 1 medium – ripe tomato(es), sliced
Combine cornmeal, salt, and cold water in a small bowl. Have the boiling water on the stove in a saucepan, and add the cornmeal mixture, whisking. Cook about 10 minutes over low heat, stirring frequently. It will get very thick. Remove from heat, and let cool until it can be handled.
Preheat oven to 275 degrees F. Oil a 10-inch pie pan or baker. Add the polenta, and use a spatula and wet hands to form it into a smooth, thick crust over the bottom and the sides of the pan. Brush the surface with olive oil, and bake uncovered for 45 minutes.
While the crust bakes, heat 1 tbsp olive oil in a medium-sized skillet. Add the onion, and sauté for 5-8 minutes, or until it begins to soften. Add bell pepper, mushrooms, and zucchini, and sauté until everything is tender. Stir in the garlic and herbs, and sauté just a few minutes more.
Turn up the oven to broiling temperature. Sprinkle half the cheese onto the bottom of the baked crust, then add the tomato slices. Spread the sautéed mixture over the tomatoes, and sprinkle the remaining cheese on top. Broil until brown (about 5 minutes), and serve hot.
Source: The New Moosewood Cookbook by Mollie Katzen

Print Friendly