Pizza night is a family tradition that we just can't miss. It is so important in our children's lives that on occasion someone turns down a Saturday night sleepover just so he/she will not miss our Saturday evening family pizza night.
Now, with my latest Favorite Find, we' just might be adding  Alessi to our family pizza night celebration
Pizza Time with Alessi
With a perfect balance of elegance and satire, Antonio Aricò-LPWK (Laura Polinoro Design Workshop) has designed a range of sophisticated pizza plates for AdiAlessi, bringing Italian cuisine and culture to mealtimes around the world.
The plates are partly inspired by the famous monochromatic ceramics of Gio Ponti, each exploring the infinite shades of a single color: red, green, brown or blue. This refined range of tones brings sophistication to the more traditional image depicted at the plate's center.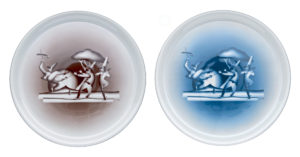 Three figures – Mr. Punch or Pulcinello from the commedia dell'arte tradition – perform an acrobatic dance while preparing the pizza against the background of Mt. Vesuvius and the Gulf of Naples. Aricò's clever interpretation of classic icons of Italian tradition is also seen in the "Souvenir d'Italie" collection of figures presented in 2015, celebrating the richness and variety of Italian customs.
Says Laura Polinoro of the tableware, "These new pizza plates tell the story of the themes of Italian food, especially the Neapolitan tradition, in an elegant and sophisticated manner, but at the same time are also playful: a touch of grace and irony in a daily act of Italian culture."
The #vivanapoli pizza plates are available in two sets, red and green or brown and blue, and are made from decorated dishwasher-safe white ceramic.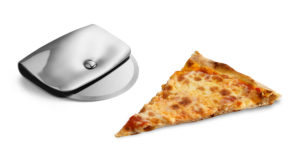 The Taio pizza wheel take the art of pizza cutting to a new level. Taio resembles a box, a pouch into which the pizza cutter has been inserted. Taio's generous size and gentle curves make it safe, easy to handle, and effective at slicing pizza, creating softness in the act of cutting.
The Taio pizza wheel and pizza plates can be found here.

Print Friendly