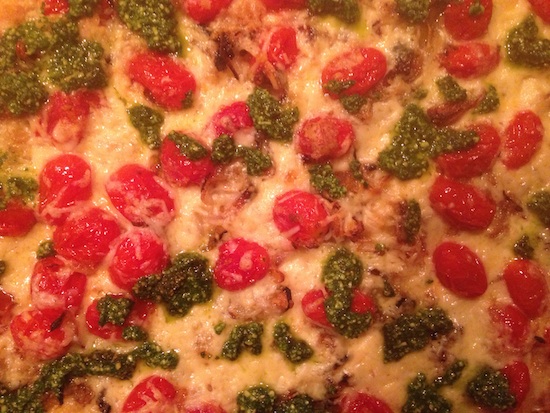 ¾ lb cherry tomatoes
¼ cup panko
2 garlic cloves, thinly sliced
1 shallot, thinly sliced
5 basil leaves, torn
2 tbsp extra virgin olive oil
salt and freshly ground pepper
pizza dough
3/4 cup coarsely grated aged Gouda (3 ounces)
6 tbsp freshly grated Parmigiano-Reggiano cheese
Basil pesto
Preheat the broiler. In a medium baking dish, toss the cherry tomatoes with the panko, garlic, shallot, basil and olive oil, and season with salt and pepper. Broil 6 inches from the heat for about 5 minutes, or until the tomatoes pop and brown lightly.
Preheat the oven to 500 degrees F. Set a pizza stone on the bottom of the oven and heat for at least 30 minutes.
On a lightly floured surface, roll out the dough, transfer to a lightly flowered pizza peel. Spoon the cherry tomatoes onto the dough. Slide the pizza into the oven and bake for about 5 minutes, or until sizzling and just set. Remove from the oven and sprinkle each with the Gouda and the Parmigiano-Reggiano. Return to the oven and bake for 5 minutes until the cheeses are melted and the crust is lightly browned. Drizzle with a little pesto.
Adapted from Food & Wine Annual 2009

Print Friendly