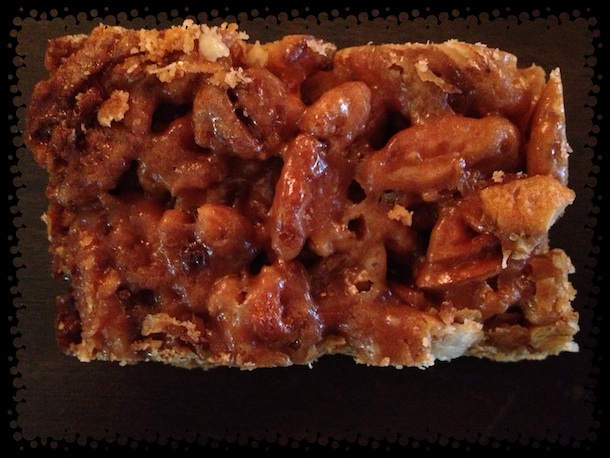 Mom's Pecan Bar recipe is definitely a family favorite. It is made even more delicious because we use pecans picked from our Oklahoma family's back yard. While we await a package delivery of this year's 'crop' we dug deep inside our freezer and found one last batch of pecans the kids helped pick during our visit to Oklahoma last year.
2 cups flour
pinch of salt
1/2 cup sugar
1 cup cold butter, cut in pieces
1 egg
finely grated rind of lemon
Topping:
3/4 cup butter
1/4 cup honey
1/2 cup sugar
3/4 cup brown sugar
5 tbsp whipping cream
4 cups pecan halves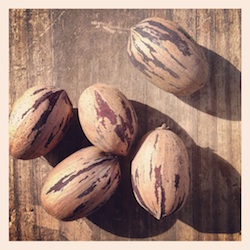 Preheat 375 degrees F. Lightly grease a 15 1/2- by-10 1/2-by-1- inch jelly roll pan.
Sift flour and salt in mixing bowl. Stir in sugar.
Cut in butter until mixture resembles coarse crumbs. Add the egg and lemon rind and blend with a fork until mixture just holds together.
Spoon mixture into prepared pan. Press in even layer with floured fingertips. Prick pastry all over with a fork and refrigerate for 10 minutes.
Bake pastry crust for 15 minutes. Remove from oven.
For topping, melt butter, honey, and both sugars. Bring to a boil. Boil without stirring for 2 minutes. Take it off the heat and stir in the cream and pecans. Pour over the crust, return to the oven and bake for 20-25 minutes.
When cool, run a knife around the edge. Invert onto a baking sheet, place another sheet on top and invert again. Dip a sharp knife into very hot water and cut into squares.

Print Friendly