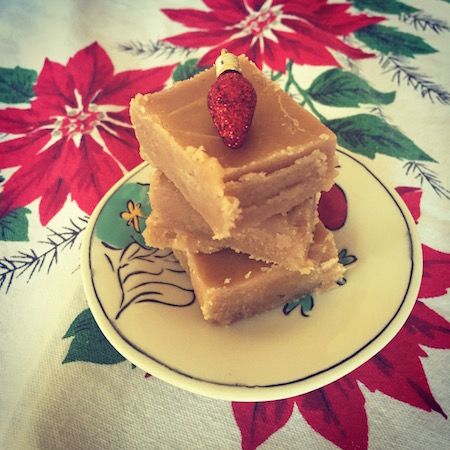 My grandfather used to make batch after batch of different types of fudge for the holidays, and keep them cold in the breezeway of his home. We'd enter the house, and be welcomed by trays of fudge awaiting delivery to family and friends. Our favorite was always the peanut butter variety.
1/4 cup roasted unsalted peanuts coarsely chopped (or pecans or walnuts)
1 cup milk
2 ½ cups sugar
3 tbsp unsalted butter
6 ounces of creamy peanut butter
1 tsp of vanilla
Foil an 8 by 8 baking pan lightly greased with vegetable spray. Sprinkle nuts on bottom of pan.
Place milk and sugar in a medium, heavy bottomed sauce pan, and boil over medium heat, occasionally stirring, until the mixture reaches 240 degrees.
Remove from heat and gently add in 3 tbsp unsalted butter, 6 ounces of creamy peanut butter, 1 tsp of vanilla in. Don't stir.
Let cool for 5 minutes, then beat vigorously with spoon or flat beater of stationery mixer until dense and smooth.
Pour into the pan and spread evenly with metal spatula. Using a sharp knife, score into portions and let set for 45 minutes.

Print Friendly