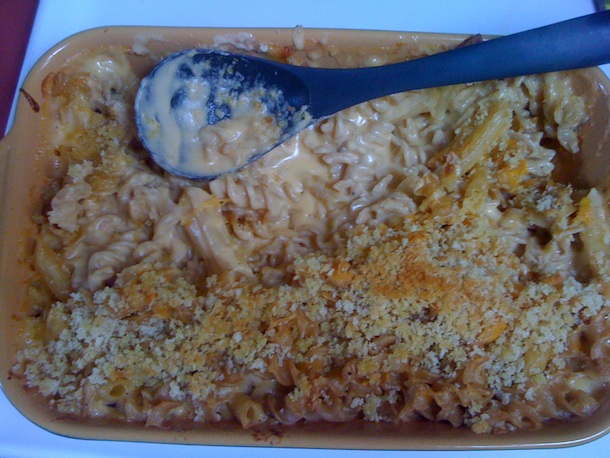 Why worry about what's in that box of mac and cheese you bought from the grocery store? Mollie Katzen's Not-from-a-box version is kid friendly to eat — and make. Oh, an adults will love the creamy taste as well.
½ lb (2 cups) uncooked macaroni or baby pasta shells
2 tbsp butter, plus extra for the pan
2 cups milk
2 tbsp unbleached white flour
2 tsp dry mustard
1 packed cup grated sharp cheddar cheese
1/3 cup grated parmesan cheese
extra cheddar for the top and sprinkling on each serving
Cook the macaroni, drain and set aside.
Heat oven to 350 degrees F
Butter the pan
Heat the milk until warm, but not boiling.
Place the butter in a medium-sized saucepan and heat on low. Sprinkle the flour and mustard into the melted butter. Whisk until there are no more lumps. Whisk and cook for 30 seconds.
Slowly pour the warm milk into the butter-flour-mustard a little at a time while whisking.
Turn the heat to medium-low and cook the sauce for 3 minutes, whisking often. It will get thicker.
Sprinkle in 1 cup cheddar and 1/3 cup parmesan. Cook the sauce for 1 more minute until the cheese is melted.
Put the macaroni into a big bowl and carefully pour the hot cheese sauce into the pasta. Stir slowly from the bottom of the bowl until the sauce is all mixed in.
Transfer to the prepared baking dish, sprinkle extra cheese on top and place in oven for 20 minutes.
Source: Honest Pretzels, by Mollie Katzen

Print Friendly