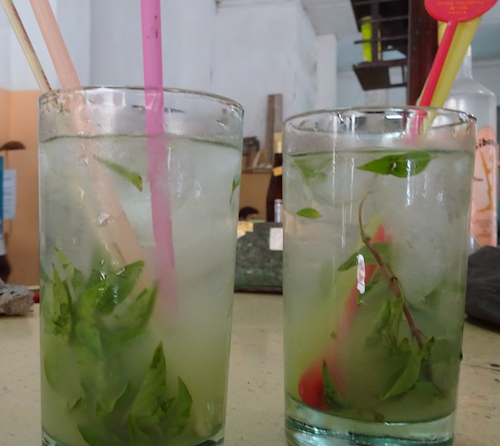 A variation of the Spanish word mojar meaning 'to wet' this cocktail is a  popular Cuban drink created at La Floridita in Havana, and – along with the daiquiri – was one of Hemingway's favorites.
2 tsp white sugar
1 lime cut into wedges
4 sprigs of fresh mint
1/2 cup white rum
2 cups club soda
2 cups crushed ice
lime wedges or slices for garnish
Place 1 tsp of sugar into each of two 12 ounce glasses.
Squeeze the juice from a lime wedge into each glass, drop in the wedge, and add 2 sprigs of mint.
Muddle the the sugar, lime juice, and mint together, then fill halfway with ice.
Add 1/4 cup rum into each glass, and then finish off with club soda.

Stir, then garnish with lime.
Serves: 2


Print Friendly