I happened upon the following blog post from 10 years ago. The more things change, the more they stay the same!
Monday, September 04, 2006
Updating this blog has been sporadic these days – with my husband on the road a lot lately, a nanny who quit, and the news that I'm expecting twins – I have been less than energetic to do just about everything.
Near the top of the list of dreaded things these days is making dinner. To add to the frustration is the fact that Nicole has become an extremely picky eater. If it isn't bread, crackers, pasta or some other carb, she pretty much won't eat it. Vegetables have always been an issue with her, but at least broccoli was always consumed. Now, she won't even touch that, and if she sees a piece of vegetable in something I serve her, she lets me know that she doesn't want it. And, if I get lucky and sneak something in, she spits it right back out again. I can get her to eat fruit, but sometimes that is even up in the air.
I'm told that all I have to do is continue to put good choices in front of her and she'll eventually get around to eating something. Still, as many of you have also experienced, it is extremely frustrating serving as a short-order cook, trying to find something that your child will eat.
This weekend, I spent time thinking about what is ahead this week. My husband leaves tomorrow for a business trip, and I will be with the kids alone until next Monday night. With 20-plus meals that I must deal with in the coming week, I thought I would finally put into practice something I have been talking about for quite some time. I planned several meals and pre-made them so I don't have to stand in the kitchen every day wondering what I should make for lunch or dinner.
With Nicole's picky eating on my mind, I set out to find recipes that she just might be interested in eating. My first choice was a split pea soup – easy to make, and she generally accepts soup to eat. Next, it was chili. Ground beef, tomato sauce . . . she loves, its the beans I'm worried about, but maybe she'll just eat around them. Another premade dinner was chicken parmigiana – just put it in the oven to heat and it will be ready without much fuss. I still have a few ideas up my sleeve, but I feel good that I've created three dishes this weekend that I can use throughout the coming week. I am hoping that I can continue this pre-planning of meals so that the weeks ahead, whether my husband is here or not, are made just a bit easier because the meals are already prepared.
Until next time, enjoy Food, Family and Friends
Laura
The challenge of feeding a family is still relevant a decade later, and it still requires Planning (one of the Family Eats' Four Pillars).
I find that unless I plan the week's meals – not just dinner, but breakfast, lunch, afternoon snacks AND dinner – I always feel as if I'm treading trying to keep my head above the water.
Through the years I found that Planning is essential to making things go more smoothly in the kitchen. I Plan weekly meals. I plan my shopping, I plan when and how I'll make the meals. And, I plan to eat together as a family at least once a week.
I have found that proper meal planning is the foundation for any successful eat-at-home venture. It is a great way to incorporate new recipes, more healthful options, and get the family involved. Once I am into the groove of meal planning, it is much easier to get out of the rut of wondering what to cook for dinner. By Planning, I'm more efficient in shopping, save money, and spend time with the family at the dinner table.
Here are a few Steps to Make Meal Planning Easy and Effective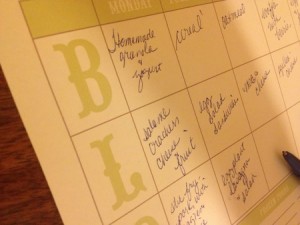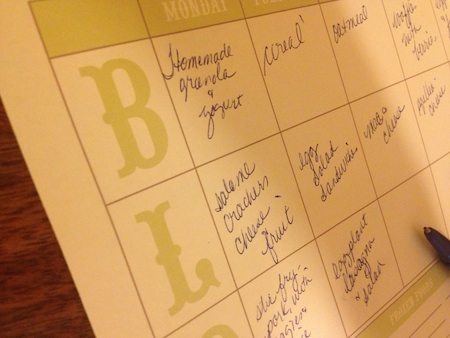 Generate an Idea
Get thinking and start making a plan for what you want to accomplish. Do you want to incorporate more healthy recipes into your mealtime? Do you desire to take your lunch to work instead of spending money daily in a restaurant? Are you tired of throwing away unused and spoiled food? Are you frustrated with wondering what's for dinner every evening? Take a look at the obstacles that cause stress in the kitchen (and at mealtime) and create a plan that will help you overcome those obstacles.
Keep it Simple
Don't strive to create that complicated recipe you saw on your favorite cooking show if you don't have the time or the energy to do so. Keep those on hand for a rainy day, and focus on keeping it simple for every day. Find recipes that are comprised of six ingredients or less. Then, take the time to read through recipes and determine how simple they will be to create.
Have Healthy Foods on Hand
This is all about stocking your pantry. Buy staples and have them ready – from rice and other grains to tomato sauce, condiments, spices and broth. Nothing is worse than deciding to make a recipe only to find out you don't have ingredients on hand. And, don't forget that frozen vegetables. Keep a stash of them in your freezer for a quick and healthy side dish. Also,  look for other ways to have healthy choices on hand, such as freezing cooked grains, so that a healthy option is always on hand.
Go With What You Know
Why experiment with a totally new recipe when you're hungry and have limited time? Save the new recipe or technique for a weekend, for example, when you may have a bit more time. To help transition into making meals on a more regular basis, have 7-10 meals that you feel comfortable making and then rotate them throughout the week.
Incorporate a Shopping Day and Prep Day – Shop one day, Cook the Next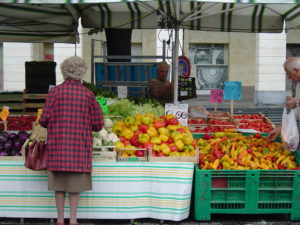 One of the biggest deterrents to making food is the idea that you have to prep foods before you start cooking. Complete your shopping on one day (Saturday, for example), then prep food on the next. For instance, wash and chop ingredients for a fresh salad – a perfect lunch or snack time option. It is also helpful to chop vegetables for recipes used later in the week, then store them tightly in the refrigerator. If you know you'll need 1 cup of chopped carrots for a recipe on Tuesday and another ½ cup on Friday, chop 1 ½ cups on prep day, and you'll be ready to cook later in the week. You can even cook rice and other grains ahead of time and store them in the freezer.
Plan Leftovers
This may take a bit of getting used to, but plan your meals and the following day's lunch with leftovers in mind. If you've created a deliciously simple Chicken Paillard on a bed of orzo and steamed carrots for dinner, cook a bit extra and incorporate the leftovers into a tasty salad topped with sliced chicken and orzo. Reinvent leftovers into new meals – for lunch or dinner – so you don't feel as if you are eating the same meal twice in one week. Although, certain meals (like chili or meat sauce) are always better on Day 2 after they've had time to sit.
Find Yourself a Companion
A book or a friend to turn to when you get in a rut, or are confused about something. Back when I was in high school, I remember calling my Mom while she was at work and having her walk me through a recipe for dinner. These days, I still find myself reaching for the phone to call my Mom when I've a question about a recipe. She is my 'go to' source for all my cooking and baking questions. Find yourself someone, something (cookbook, internet), who you can turn to when you just aren't quite sure how to proceed.
Enjoy!

Don't make mealtime a chore time. By incorporating meal planning into your week, you'll open new possibilities for mealtime. And take the stress out of wondering what to make for dinner.
What is your biggest challenge keeping you from Meal Planning? Share them with me in the comments below, and I'll be sure to address them in a future post!
Thank you, and Happy Planning.
Laura
Save
Save
Save
Save

Print Friendly