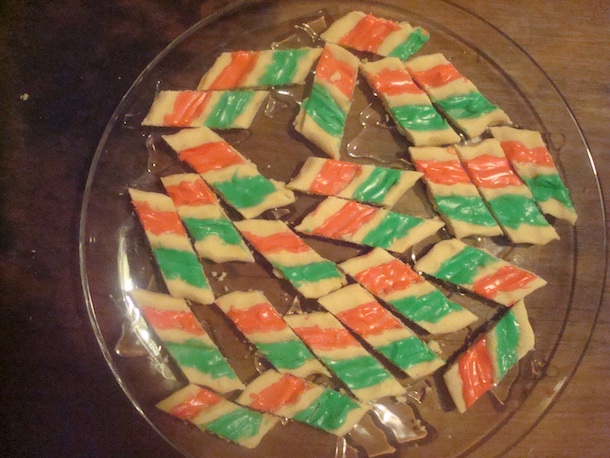 My brother and I would eat these as fast as Mom could make them. Magic Carpet Cookies continue to be a favorite holiday tradition for us, several decades later!
1 cup soft butter
½ cup sugar
1 egg
3 tsp. almond or vanilla flavoring
2 ½ cups flour
½ tsp. baking powder
½ tsp. salt
Heat oven to 375 degrees.  Cream well – butter, sugar, egg, flavoring.  Stir dry ingredients together; blend in.  Reserve half of dough.  Roll rest into two rectangles, 12" x 6", on heavily floured board.  Cut each rectangle lengthwise into three strips.  With spatula, carefully lift each strip onto ungreased baking sheet, placing about 1" apart.  With reserved dough, divide into 18 pieces.  Roll each piece into a rope and place one rope down the center of one rectangle; another on each side of that rectangle.  Repeat for all rectangles.  Press rope down with your fingers or a fork so that they are adhered to the rectangle.
Bake for ten minutes, or until edges are light brown.  Cool on baking sheets.  Fill in between rows with confectioners' sugar icing.  Carefully cut 1" diagonal pieces with sharp knife.  Yield 60-70 cookies.
Confectioners' Sugar Icing:
1 cup sifted confectioners' sugar
 ½ tsp. vanilla
enough cream for spreading consistency
food coloring to tine half pink and half gree

Print Friendly