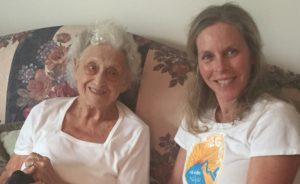 Lately I've been contemplating life at 100. I'm only a bit more than halfway there, but a recent visit with my Great Aunt Millie got me thinking about what it would be like when I turn 100.
I don't get to see her often, but when I head back to Cleveland every summer to visit family, I try to make plans to see her. This year I made sure to visit, because in a few short weeks, she would be celebrating her 100th birthday!
She's a spry lady, with a fabulous memory and a laugh that puts a smile on anyone's face. When I was younger, I remember the laughter whenever she was around. Whether it was at an extended family get-together or as she readied to go dancing every weekend with my grandparents  — there was laughter.
This visit did not disappoint. She was as animated as I always remembered her being. At 100, she lives in a senior living facility – a 4th floor apartment in a high rise filled with seniors. No nursing staff, just apartment living. She gets around with the help of a walker, and has family check in on her weekly. We rang her upon arrival to her building, and she came down from her fourth floor apartment to let us in. She then invited us backup to her apartment where she gave us a tour of her living quarters, including the balcony where she spends time watching the sun set.
When we sat down to catch up the conversation flowed. She was so happy to have family visiting, quickly bringing us up to speed on all things going on in her life, asking me all about my children, and giving Mom the low-down on the rest of the extended family. We then reminisced a bit about past gatherings, funny family stories, and the hip surgery she had at 95. We laughed together.
The visit brought back so many memories of the warm embrace and laughter of our family gatherings. Surrounding us all would be tables of delicious homemade meals — stocked with family recipes that we often continue to make now.
A few weeks after my visit, Aunt Millie celebrated her birthday surrounded by 60+ family members. She gave a short speech, enjoyed delicious homemade meals, and indulged in a big birthday cake. I was across the country, so I decided to celebrate by making a cake – of course, using one of Aunt Millie's recipes.
 I hope you enjoy it with your family — along with some laughter.
Aunt Millie's Babovka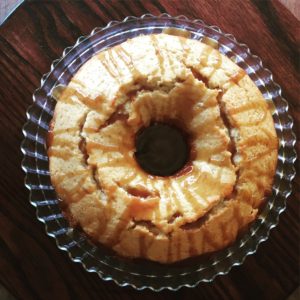 Cream 1 cup butter (1/2 lb)
Gradually add 1 cup of sugar
Separate 5 eggs
Beat yolks until thick, then the egg whites – stiffly beaten
Add to the butter and sugar mixture
Grate ½ lemon
Add 3 cups sifted flour with 1 tsp baking powder (heaping)
Then add 1/3 cup milk and 1 tsp vanilla
Beat well until creamy
Put in buttered tube pan and bake at 375 degrees, about 1 hour
Save
Save
Save

Print Friendly