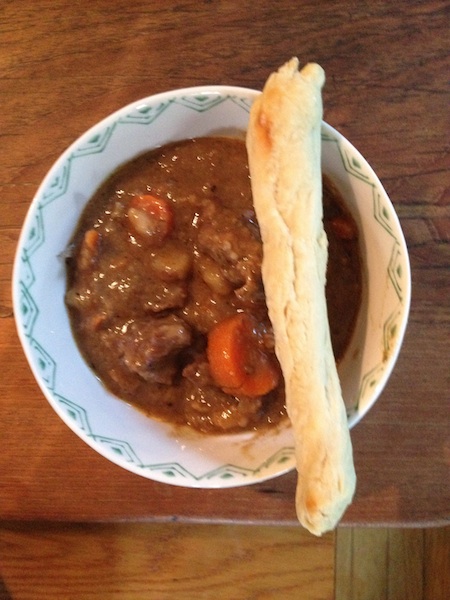 This sounds spicier than it really is: once the jalapenos are cooked, they mellow out and give this stew a nice pepper flavor, without a lot of burn.
6 shallots, peeled
1 tbsp olive oil
5 tbsp unsalted butter
1 lb beef chuck, cut into 1-inch squares
1/3 cup of flour
4 jalapeno peppers, stemmed and seeded
2 carrots, peeled and cut into 2-inch rounds
1 large potato, peeled and cut into 2-inch pieces
½ red onion, peeled and diced
1 cup port
2 cups beef stock (fresh or canned)
1 tbsp dried oregano leaves
1 tbsp dried sage leaves
kosher salt to taste
freshly ground pepper to taste
Preheat the oven to 350 degree F.
Toss the shallots with the olive oil, place them in a small pan, and roast them in the oven for 35 minutes, or until they are soft and brown.
Heat the butter in a large, deep saucepan (that has a cover) over medium heat.
While the butter is melting, toss the beef cubes with the flour to coat.
Place the beef in the hot butter, increase the heat, and sauté the beef cubes on all sides for 5 minutes for rare and longer for medium or well done. Do not crowd the meat or it will steam rather than brown.
Remove the pan from the heat, transfer the meat to a bowl, cover it loosely with foil to keep it warm and set it aside.
Mince the jalapenos.
The peppers vary in heat, so the amount of peppers may be adjusted accordingly.
Place the pan back over medium heat, and, in the remaining butter, sauté the peppers, carrots, potato and onion, tossing to prevent burning until onions turn translucent.
Add the wine, stock, sage and oregano, gently stirring on the bottom of the pan to release any solidified pan juices.
Cook the stew over low heat, with the lid slightly ajar, for 40 minutes.
Add the reserved shallots and beef, stir to combine, and continue cooking for 20 minutes.
Test to see if meat and vegetables are done.
Season with salt and pepper.
Source: A Cowboy in the Kitchen, Copyright 1998 by Grady Spears and Robb Walsh, Ten Speed Press

Print Friendly