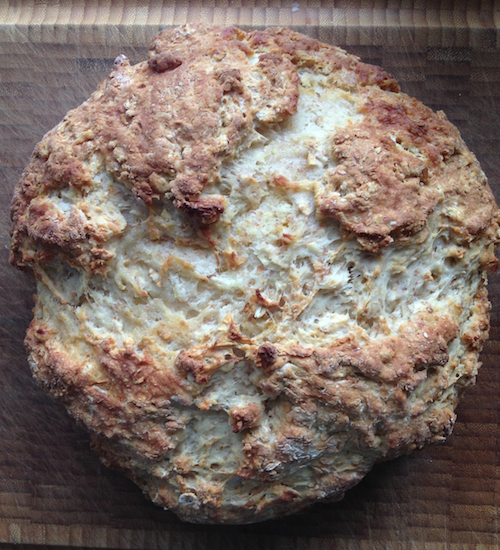 This quick bread recipe is delicious to enjoy all year round, not just around St. Patrick's Day. We love to pair it with just about everything from a warm soup to a Sunday roast . . . although, oftentimes we gobble it up before it has a chance to cool.
2 ¼ cups unbleached bread flour, plus extra for dusting
½ cup old-fashioned rolled oats
¼ cup wheat bran
1 ½ tsp baking soda
1 tsp salt
¼ cup cold, unsalted butter, cut into small pieces
1 ½ cups plain low-fat yogurt
Place a heavy baking sheet in the oven and preheat to 425 degrees F.
In a large bowl, combine the 2 ¼ cups flour, the oats, bran, baking soda and salt. Add the butter and rub it in with your fingertips until the mixture resembles coarse meal. Add the yogurt and stir to blend as evenly as possible, forming a rough ball.
Turn out the dough onto a lightly floured work surface and knead gently for about 30 seconds, dusting with just enough flour to avoid sticking. The dough should be soft.
Sprinkle a little flour on a clean work surface and set the ball of dough on it. Flatten slightly into a 7-inch dome and sprinkle with flour, spreading it lightly over the surface with your fingertips. Using a large spatula, transfer the loaf to a preheated baking sheet and bake until well risen, brown, crusty and the loaf sounds hollow when tapped on the bottom, 30-35 minutes. Transfer the loaf to a wire rack to cool.
Makes one, 1 ¼-lb loaf.
Source: Breads, from Williams-Sonoma Kitchen Library, Time-Life Books, 
Save

Print Friendly