I've used a lot of thermal mugs in my time. Some keep them hot, others keep them tepid. Some are hard to clean, get banged up, lost parts and just don't play the part.
Travel mugs have become a necessity in our day to day lives. Not only do they need to perform well, but they have become a style statement.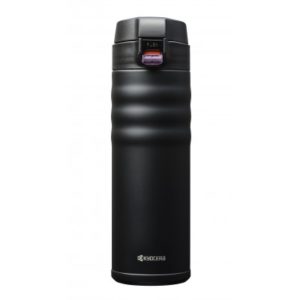 The new Kyocera Ceramic-Coated, Stainless Steel Coffee Mug is my latest favorite travel accessory. Whether I'm hopping in the car with my early morning coffee to drive one of the kids to school, sitting at my desk enjoying some tea, or sipping water when I'm off to the pool, this stylish 17-ounce travel mug is a trusted companion as I make my way through the day.
What makes it so functional is that the advanced ceramic-coated interior is non-reactive, will never rust or absorb flavors, stain, or corrode. That means, I can enjoy coffee in the early morning hours, tea when I sit down at my desk, and water on my afternoon hike without worrying about the taste of coffee tainting any other beverage I'm sipping.
The ceramic-coated interior is also a flavor savor, helping maintain temperature which is essential in maintaining flavor of the beverage. In fact, the thermal mug keeps drinks hot or cold for at least 6 hours and up to 12 hours depending on the starting temperature of the liquid.
It is light and compact design allows me to slip it into my bag easily, and the safety locking lid makes it spill proof (essential for my desktop and when I slip this into my bag). It stays cool to the touch when filled with hot beverages and never sweats with cold liquids.
Handy to use, the lid opens with one hand and the wide mouth ensures I can add ice cubes when filling with water, iced coffee or tea.
You can purchase the Kyocera Ceramic-Coated Insulated Travel Mug here, for $29.95
Save
Save

Print Friendly