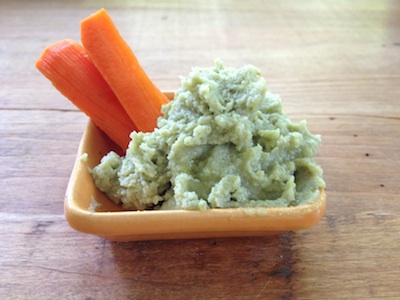 Versatile, delicious, and oh so easy to make, this fava bean spread is perfect when served on crostini (as mentioned in this recipe), but it is also delicious as a vegetable dip to snack on. I even use it to spread on crusty bread, adding some cheese and sliced turkey and heating in the oven. I then top it with  tomatoes and lettuce and have a quick lunch.
½ pound fresh fava beans
3 tbsp olive oil
1 clove  garlic, minced
salt and pepper
¼ cup olive oil
For Crostini
1 baguette, sliced thin and toasted
lemon oil
good quality pecorino
Peel and seed the fava beans. In a medium pot with boiling water, blanch the favas for 1 minute until the outer skins are loosed from the bean. Peel the outer skin and set aside the beans.
In a bowl of a food processor, place the 3 tablespoons olive oil with the minced garlic. Add the favas and puree until the beans are smooth. Add the additional olive oil as needed to soften the paste and make it emulsify. Add salt and pepper to taste.
Smooth a dollop of the fava bean puree on each toasted baguette slice and drizzle with lemon oil. Place a shaving of the Pecorino on top of each and serve.

Print Friendly