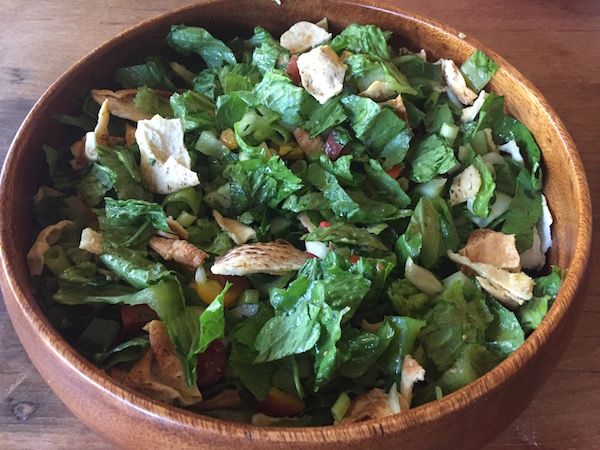 A traditional Lebanese salad, the Fattoush is made with toasted, or fried, flat bread. Here we use pita bread. By coating the pita with olive oil prior to toasting, it won't tend to get soggy once the dressing is added. To transform this into a 'full meal', simply add some shredded chicken or shrimp and enjoy!
4 large (or 8 small) pita breads
1 to 1-1/2 cups Basic Citrus Dressing
2 tsp ground sumac (optional)
sea salt and freshly ground black pepper
2-1/2 to 3 cups diced tomatoes, cut 1/2″ thick (approx 3 medium tomatoes)
2 cups diced cucumbers
1/2 cup finely diced red onion
6 Tbsp finely chopped green onions (white and green parts)
1 cup chopped fresh flat-leaf parsley
1/2 cup thinly slivered fresh mint
2 cups chopped purslane (optional)
4 cups loosely packed romaine strips, cut 1-inch wide
For the Basic Citrus Dressing, whisk together the following:
1/2 cup mild and fruity, extra-virgin olive oil
4 Tbsp fresh lemon juice
sea salt and freshly ground black pepper
optional: 2 tsp minced garlic
Heat oven to 350 degrees F. Place the pita breads on baking sheet and bake until they are dry, about 15 minutes. Remove from oven. When cook enough to handle, break the bread into large bite-size pieces.
In a small bowl, whisk together the dressing and sumac (if using), and add salt and pepper to taste.
In a large salad bowl, combine the tomatoes, cucumber, red onion, green onion, parsley, and mint, then add the pita pieces, the purslane (if using), and the romaine, then toss with the dressing.
Serve immediately

Print Friendly