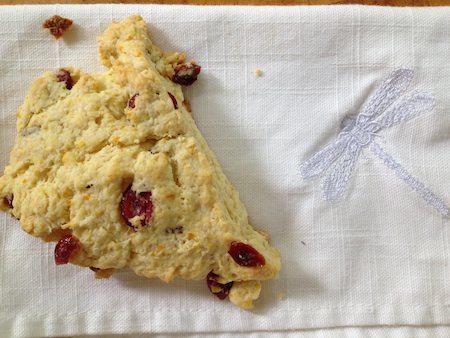 We love scones in the morning, and for afternoon snack. This delicious recipe from Melissa's, gives us a great way to use our tangerines, and adds the delicious taste of dried cranberries. For everyday enjoyment, we make it without the sauce, which we reserve for special occasions.
2 cups All-Purpose Flour
1/3 cups Sugar
2 tablespoon Ojai Pixie Tangerines grated, peel
1 tablespoon Baking Powder
1/2  teaspoon Kosher Salt
1/2 cup Unsalted Butter
1/2 cup Dried Cranberries
1/4 cup Sour Cream
3 tablespoons Ojai Pixie Tangerines juice
1 large Egg
2/3 cup Granulated Sugar
1/4 cup Water
6 Ojai Pixie Tangerines juiced
1 Ojai Pixie Tangerines zested
1 tablespoon Unsalted Butter
Preheat oven to 425°F. Line baking sheet with parchment paper. In a large bowl, whisk together the first 5 ingredients. Add the chilled butter. Using your fingertips, rub in until mixture resembles coarse meal. If you have a food processor, you can mix this by using the pulse button. Mix in cranberries.
In another bowl, whisk together the sour cream, pixie tangerine juice and the egg. Gradually add to flour mixture, using a fork to toss until moist clumps form. Knead dough briefly on lightly floured surface until smooth. Pat dough into 8-inch round. Cut into 8 equal wedges or you can use ring cutters, cookie cutters, etc. depending on the presentation you are looking for. Transfer to the prepared baking sheet, leaving some space between each scone. Bake until golden brown, about 12 minutes. Serve warm or at room temperature.
Meanwhile, to make the sauce, combine the sugar and water in a small sauce pot and heat on high, without stirring, until it turns to a caramel color. Once the color is achieved, remove from heat and while stirring constantly, carefully add the tangerine juice. It will bubble up. Once the caramel bits are dissolved, add the zest and butter and stir until smooth. Set aside to cool.
For the presentation, split a scone in half, place it on a dessert plate and drizzle the sauce over the top.
Source: Melissa's. Original post here.

Print Friendly