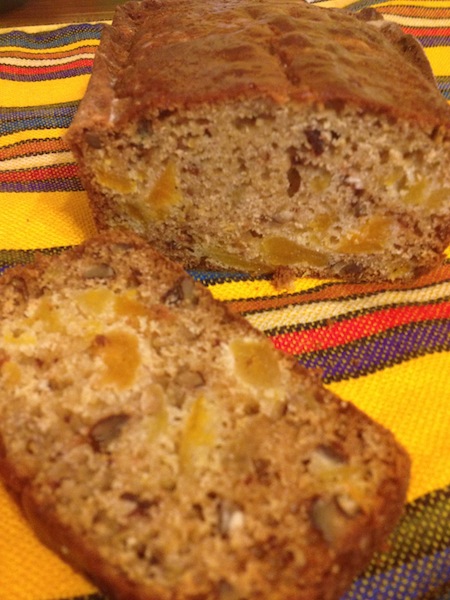 Delicious when served plain, thin slices or spread with sweet butter to accompany tea or coffee. You can also serve it for picnics and holidays, sandwiching paper-thin slices of smoked turkey and Black Forest ham.
Yields two, 7 1/4-by-3 1/2-inch loaves
1 1/2 cups dried apricot halves
1 cup boiling water
3 Tbsp in salted butter
1 cup sugar
2 cups unbleached all-purpose flour
1 1/2 tsp baking soda
1/2 tsp salt
1/2 cup whole wheat flour
1 cup(4 ounces) chopped raw pecans
2 eggs
1/2 cup orange juice, fresh or frozen
Coarsely chop the apricots by hand or in a food processor. Place in a large bowl and add the boiling water, butter, and sugar. Mix well and set aside to lukewarm.
Combine the unbleached flour, baking soda, and salt. Add to the apricot mixture and stir to combine. Add the whole-wheat four, pecans, eggs, and orange juice. Beat well to make a batter that is evenly combined but slightly lumpy. Do not over mix.
Pour the batter into two 7 1/4-by-3 1/2-inch greased and floured loaf pans. Preheat oven to 350 degrees F. Let the loaves rest at room temperature for 15 minutes before placing them in the center of the oven to bake for 55 to 60 minutes. When done, the tops will be firm to the touch, the loaves will pull away from the sides of the pans, and a cake tester inserted into the centers will come out clean. Remove from the pans and cool completely on a rack. Wrap tightly in plastic wrap and chill overnight or up to 5 days  before serving.

Print Friendly