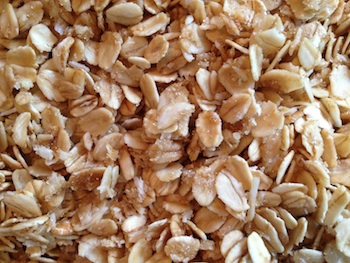 Forget spending the money on granola bars filled with ingredients you can't pronounce. These delicious granola bars take little time to make, and are the perfect  for enjoying as an afternoon snack, a before practice pick-me-up, or even as an early morning breakfast on the go.
Preheat oven to 400 degrees F
2 cups oats
¾ cup wheat germ
¾ cup sunflower seeds
1 cup peanuts, crushed
2/3 cups brown sugar
½ cup honey
4 tbsp butter
2 tsp vanilla extract
½ tsp. Kosher salt
approximately 8 ounces dried fruit
Crush peanuts – place in plastic bag, and smash them with a heavy mallet, measuring cup or saucepan.
Mix peanuts, oats, wheat germ, and sunflower seeds in a baking dish and toast in oven with 10-12 minutes, stirring every few minutes so they don't burn.
Prepare baking dish (11 x 13") for the bars, line it with waxed paper and lightly spray with nonstick spray.
Place brown sugar, honey, butter, vanilla and salt into a saucepan and bring to a simmer, stirring constantly.
Once grains are toasted, mix everything together in a large bowl. Place mixture into prepared baking dish and press out flat. Let sit until cooled, then cut in squares and enjoy.

Print Friendly