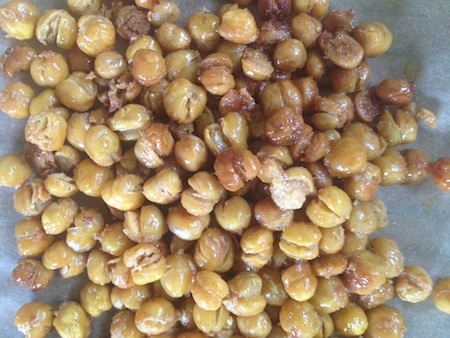 A quick, delicious and healthy snack, roasted chickpeas make the perfect mid-day, afternoon, or after dinner snack. Made with only a few ingredients – you can customize the flavor using your choice of spices. A member of the legume family, chickpeas have a delicious nut-like flavor, and are high in protein and fiber.
Chickpeas – canned or dried.
Olive Oil
Salt to taste
Spices – your favorite blend
Rinse chickpeas and remove the skin. If using dried chickpeas, cook and cool.
Completely dry the beans.
Drizzle a bit of olive oil and coat the beans.
Place in 400 degree oven for 30-40 minutes until golden brown and crunchy.
Season with salt and spice blend of your choice.

Print Friendly