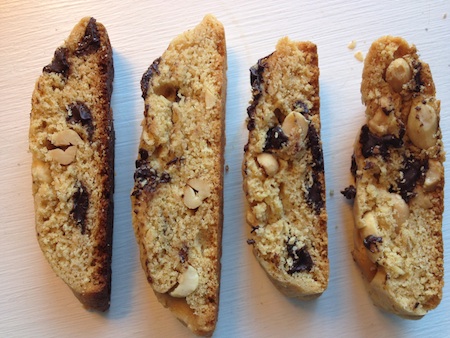 Thanks to our friends at Ashi's Bakehouse in India for providing us with this recipe – perfect for enjoying with an espresso. These twice baked biscuits originated in the Italian city of Prato, and are a favorite of ours – enjoyed with, or without, espresso. Filled with peanuts and chocolate, the kids have a hard time keeping their hands off these.
CHOCOLATE  PEANUT  BISCOTTI
1stick+2 tablespoons salted butter
2 1/2 cups all-purpose flour
2 3/4 teaspoons baking powder
3 large eggs
1 1/4 cups sugar
2 teaspoons pure vanilla extract
1/2 cup smooth natural peanut butter,
1 1/4 cups dry roasted peanuts
1 1/4 cups chopped dark chocolate
Preheat the oven to 350F (180 C). Line baking sheets with parchment paper
Melt the butter over medium heat, cook until brown.  Cool slightly.
Sieve the flour and baking powder together in a large bowl.
Whisk the eggs and sugar in a medium bowl until light and pale yellow, about 2 minutes. I use an electric mixer here as you want the mixture whipped enough so that when you lift the whisk attachment out of it, you are left with a trail of ribbons. Beat in the butter and vanilla until evenly mixed, about 30 seconds more. Add the peanut butter and mix until combined.
Slowly, fold in the flour and baking powder mixture. Lastly fold in the peanuts and chocolate pieces.
Divide the dough evenly into 3 parts, and shape the dough with slightly wet hands into 2"x15" logs, slightly tapering at the ends. Bake until set and brown around the edges, about 25 to 30 minutes. Leave the biscotti on the baking sheets for about 5-10 minutes to harden slightly. Then cut diagonal slants of about ½" thickness along the length into finger like pieces. Return the biscotti to the baking sheets, spacing them slightly apart, and bake at 325F (160C) further for 10 mins until crisp and golden brown.
Cool biscotti on the baking sheets. Serve.
Ashi's Bakehouse is a bakery located in Mohali, India, which sells homemade cakes,cookies chocolates, breads and other products. They specialize in wholewheat and low calorie baking.

Print Friendly