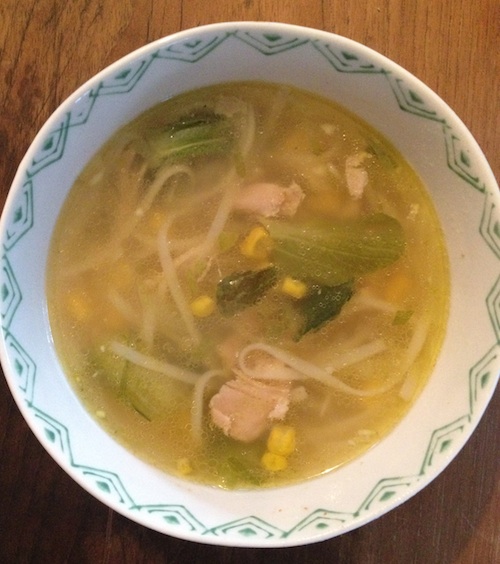 A simple, fragrant soupthat makes a comforting one bowl meal after a busy day and another reason to keep a supply of chicken stock in the freezer. The rice noodles barely need cooking, making this an incredibly fast dish to prepare. Replace the oyster mushrooms with white or brown mushrooms if you wish.
8 cups chicken stock
2 garlic cloves
3 green onions
1″ piece of fresh ginger
2 tbsp vegetable oil
1-2 chicken breasts, skinned, boned, and finely shredded
4 oz. small oyster mushrooms
1 bunch of Chinese greens, such as bok choy or choy sum
4 oz. canned or fresh baby sweet corn
4 tbsp soy sauce
4 oz. fine rice noodles
small bunch of cilantro minced
salt and freshly ground black pepper
a few drops of sesame oil
Bring the stock to the boil, reduce the heat and simmer gently.
In a food processor or blender, blend the garlic, green onions and ginger to a paste, adding a little of the oil if necessary.
Heat the oil in a wok until very hot, add the paste and stir fry for 1 minute, until fragrant. Add the chicken and stir fry for another minute or so.
Pour in the stock, break in the rice boodles and stir. Simmer for a few minutes and add the cilantro leaves.
Season to taste and sprinkle over a few drops of sesame oil to finish.
Serves 4-6
Source: Everyday Epicurean by Catherine Bell. Ten Speed Press.

Print Friendly