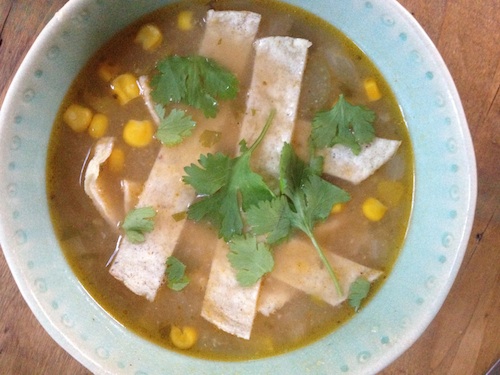 Soup is all about using what's in your home at the time. Use this recipe only as a base to create your own version of Chicken Tortilla Soup. Add seasonal vegetables, frozen corn, and then top with freshly made pico de gallo, sour cream or guacamole – the variations are endless.
2 boneless, skinless chicken breasts
1 tbsp or more as needed, olive oil
1 1/2 tsp cumin
1 tsp chile powder
1/2 tsp garlic powder
1/2 tsp salt
1/2 cup red onions
1/2 cup red bell pepper, chopped
3 garlic cloves, minced
32 ounces chicken stock
2 tbsp tomato paste
4 cups water
3 tbsp cornmeal
5-8 whole corn tortillas, cut into strips
Preheat oven to 375 degrees.
Rub chicken breasts with olive oil.
Mix spices together and sprinkle enough spices on both sides of chicken breasts – set aside remaining spices for later.
Bake chicken breasts for 20 to 25 minutes, or until chicken is done. Use two forks to shred chicken, and then set aside.
Heat 1 tablespoon olive oil in a pot over medium high heat. Add onions, red pepper, and minced garlic. Stir and begin cooking, then add the rest of the spice mix. Stir to combine, then add shredded chicken and stir.
Pour in the chicken stock, tomato paste, and water. Bring to a boil, then reduce heat to a simmer. Simmer for 45 minutes, uncovered.
Mix cornmeal with a small amount of water; pour it into the soup and simmer for another 25-20 minutes. Add more spices if needed.
Five minutes before serving, stir in tortilla strips.
Once in bowls, top with a variety of garnishes, which may include sour cream, diced red onion, diced tomatoes, grated cheese . . .

Print Friendly