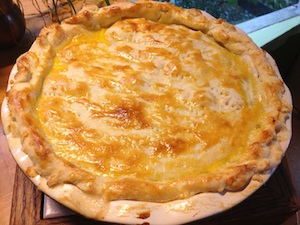 1 tsp sea salt to taste
1 tsp black pepper freshly cracked to taste
1 cup sliced peeled carrots (1/4-inch slices)
1 cup shelled fresh peas or thawed frozen
1 cup corn kernels (2 or 3 ears)
2 tbsps salted butter
4 chickens skinless, boneless thighs, about 1 1/4 lb total weight, cut into bite-sized pieces
2 tbsps chopped shallot
1/4 cups all purpose flour
1-1/2 cups chicken stock
1/2 cups Dry white wine
1/2 cups half-and-half
1 tbsp chopped fresh-leaf Italian parsley
1 egg yolk beaten with 1 tsp water
1 pie dough round , 9 inch handmade or purchased
Preheat oven to 400 degrees F. Bring a saucepan three-fourths full of lightly salted water to a boil. Using a pasta insert or large sieve, immerse the carrot pieces and peas in the water and boil until crisp-tender, 3-5 minutes. Lift out, drain, and transfer to a bowl. Repeat with the corn, boiling for 1 minute. Set aside.
In a large frying pan with a lid over medium-high heat, melt the butter. Add the chicken and cook uncovered, stirring occasionally, until browned on all sides, about 8 minutes. Add the shallot and cook, stirring, until softened, about 2 minutes.
Sprinkle in the flour and stir well. Stir in the stock, wine, half-and-half, and parsley, and bring to simmer. Cover, reduce the heat to low, and simmer for 10 minutes. Stir in the carrots, peas, and corn. Season with salt and pepper. Transfer to a 9-inch deep-dish pie dish.
Brush some of the egg yolk mixture in a 1-inch border around the edge of the pie dough round. Place the round, egg side down, over the filling, and press the dough to the rim of the dish. Trim off any overhanging dough and brush the surface lightly with the remaining egg yolk mixture. Cut a few slits in the center of the top with the tip of a knife.
Place the pie dish on a baking sheet. Bake until the crust is golden brown, about 30 minutes. Serve hot.

Print Friendly