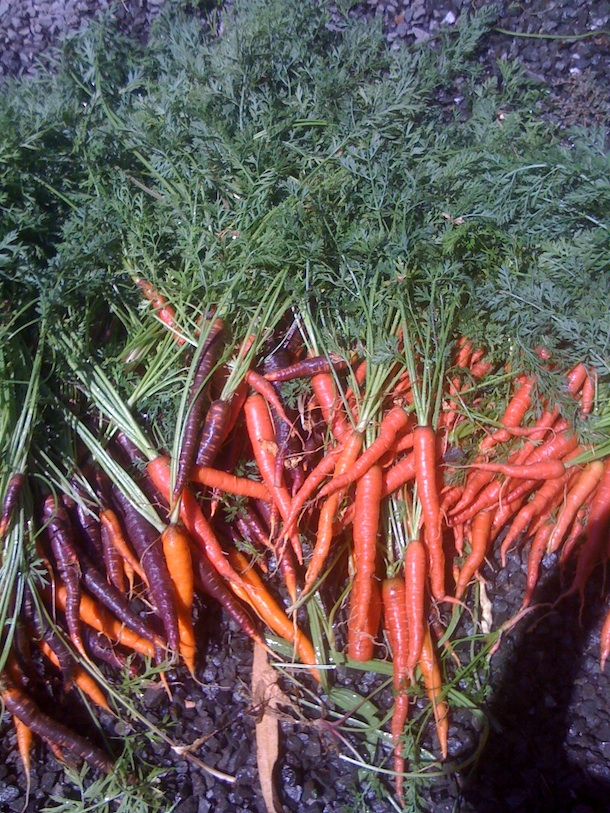 We first made this recipe for a 50th birthday party celebration, and have been making it ever since. This delicious carrot cake features traditional cream cheese frosting, but is topped with Cointreau Carrots to add a special touch to an everyday or celebratory cake.
1 ½ cups finely minced carrot
½ cup crushed pineapple, drained
¾ cup finely chopped walnuts
2 ½ cups all-purpose flour
1 tsp baking powder
1 tsp baking soda
½ tsp ground cinnamon
¼ tsp ground allspice
¼ tsp freshly ground nutmeg
Pinch kosher salt
1 cup buttermilk
¼ cup molasses
4 large eggs
¾ cup vegetable oil
1 ½ cups packed dark brown sugar
1 recipe Cream Cheese frosting (recipe below)
1.  Preheat oven to 375°F. Grease jelly-roll pan (15x10x1-inch) and line with parchment paper. Set aside.
2.  Combine carrot, pineapple, and walnuts in a medium bowl. Set aside. Mix together flour, baking powder, baking soda, spices and salt in a large mixing bowl. Mix together buttermilk, molasses, eggs, oil and dark brown sugar in a separate medium bowl.
3.  Now add the buttermilk mixture to the flour mixture and stir with a wooden spoon to make a batter, then fold I the carrot mixture. Pour the prepared pan and bake in the preheated oven for 25 to 30 minutes, until the cake is set and springs back when gently pressed in the middle. Remove the pan from the oven and allow cake to cool on a rack while you prepare the Cream Cheese Frosting and Cointreau Carrots.
4.  Once the cake has cooled, carefully remove cake from pan. Cut into three equal size rectangles by cutting the cake crosswise twice. Stack the cake into three tiers with Cream Cheese Frosting in between each layer. Frost the outside of the entire finished cake, smoothing off the edges and corners (an offset spatula works well). Top with Cointreau Carrots and drizzle a little of their syrup on top.
Cream Cheese Frosting
2 lbs cream cheese, room temperature
2 sticks unsalted butter, room temperature
2 cups powdered sugar
1 tsp vanilla extract
1 tsp lemon zest
1.  Using a standing mixer, beat cream cheese and butter in a large mixing bowl until it is blended and has a smooth, light texture. Add the powdered sugar, vanilla and lemon zest and beat until combined. Continue to beat until smooth and glossy, about 7 minutes.
Cointreau Carrots
1 medium carrot
½ stick unsalted butter
2 tbsp sugar
¼ cup Cointreau
Pinch kosher salt
Slice carrot into thin rounds. Put carrot, butter, sugar, Cointreau and salt in a small saucepan and place over medium heat. Bring to a simmer and reduce until carrots are tender and mixture is syrupy, about 5 minutes.
Source: Tyler Florence, Dinner at My Place, Meredith Books, Copyright 2008

Print Friendly