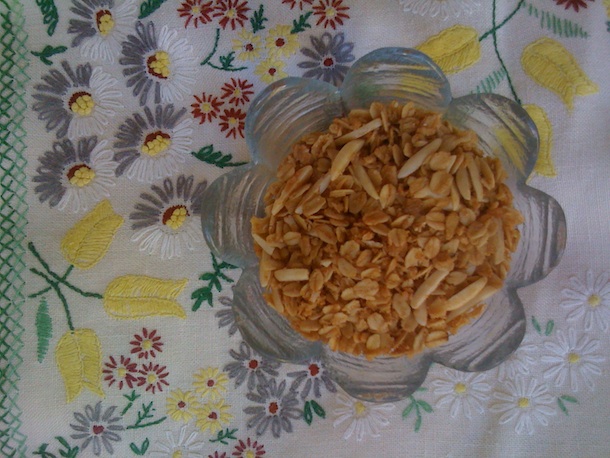 Forget the store-bought granola, and make your own with this easy recipe. Choose quality ingredients, and change the recipe to reflect your own personal taste preferences. A little DIY granola is quick, delicious, and oh so addictive.
3 cups oats
1 cup almond slivers*
1 cup cashews*
¾ cup coconut
¼ cup + 2 tbsp dark brown sugar
¼ cup + 2 tbsp maple syrup
1/4 cup vegetable oil
¾ tsp salt
1 cup raisins*
* ingredients are optional, and can be omitted or substituted per personal preference.
Mix oats, nuts, coconut and sugar in a bowl.
In a separate bowl, mix syrup, oil and salt. Pour wet ingredients into the dry ingredients and mix.
Spread on a cookie sheet and place in a 250 degree oven for 1 hour, 15 minutes, stirring every 10 minutes.

Print Friendly