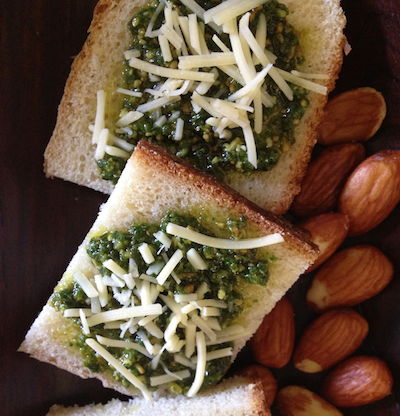 Quick, delicious and versatile, make this  basis pesto recipe and keep some in the fridge, or freezer for quick access. If storing, be sure to keep a layer of olive oil on the top to keep it fresh.
2 cups fresh basil leaves
1 cup fresh Italian flat-leaf parsley leaves
1/2 cup grated parmigiano-Reggiano
1/2 cup pine nuts, toasted
3 garlic cloves, peeled and roughly chopped
1/4 tsp kosher salt
1/2 cup extra-virgin olive oil
In a food processor, combine basil, parsley, cheese, pine nuts, garlic, salt, and oil and pulse until well combined but still rough in texture.
Source: Tyler Florence, Stirring the Pot, Copyright 2008 Meredith Books.

Print Friendly